Red Queen by Victoria Aveyard
Red Queen #1
Published February 10th, 2015.
Orion.
Young Adult Dystopian Fantasy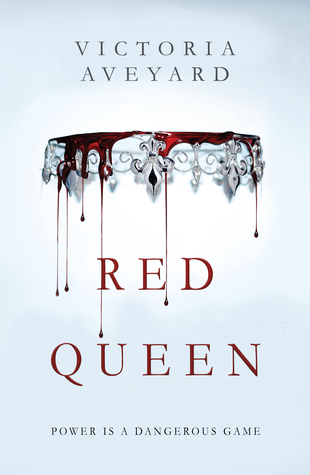 Premise:

The poverty stricken Reds are commoners, living under the rule of the Silvers, elite warriors with god-like powers.

To Mare Barrow, a 17-year-old Red girl from The Stilts, it looks like nothing will ever change.

Mare finds herself working in the Silver Palace, at the centre of
those she hates the most. She quickly discovers that, despite her red blood, she possesses a deadly power of her own. One that threatens to destroy Silver control.

But power is a dangerous game. And in this world divided by blood, who will win?
Red Queen is a pretty amazing dystopia, full of action, subtle romance, deceit and plot twist for days.
The world is divided in two races. The Silvers are the leaders, the powerful ones, with abilities one could only dream of: control over fire and water, over the minds and bodies of other people and many more. The Reds are the servants, the workers and overall the normal humans. They are seen as little more than slaves by the Silvers and are believed to be inferior, only destined to serve them.
Mare Barrow is a Red, she's a thief and she's the black sheep of her family with her not being really useful for anything else besides stealing. But also, she has an ability no other red is been known to have. She has a power only destined for a Silver and this power will change everything.
Mare is such a strong character, she's so protective of everyone she loves and she would do anything to save them, even if that means signing her own death sentence. But she is also flawed and that makes her relatable. She's naive and hopeful, and doesn't realize that she can't save everybody.
Cal is the heir to the throne, the soon-to-be king. He's the perfect soldier, the perfect ruler for his people and everyone loves him. He's determined, passionate, but not delusional. He knows that if the change he once believed would be the answer to all the suffering, ever takes place it would only cause more pain.
Maven is a complex character, the shadow to the flame that is his brother. The forgotten brother, not the strongest, not the best, but not helpless. He's determined to win this war for power and no one will stand on his way, not even his own family.
There were so many unforgettable characters that if I went into details about them all in this review, it will be the length of The Bible. Julian, Queen Elara, Farley were some of my favorites. All of them impossibly powerful in their own way.
There have been many comparisons between this book and other dystopias. I, myself can see certain elements from
The Hunger Games
,
The Darkest Minds
and even
Divergent
. But I think that the sames elements and even the same ideas can be the starting point for very different and unique stories. And if we get real, I mean come on! How many dystopias do you think could be written without certain elements like a post-apocalyptic new oppressive
regime or some weird mutation of the human race and still be called dystopias? For me, that's like saying that every book featuring vampires is like
Twilight
(if you think this, we're just gonna have to agree to disagree on that topic). What I'm getting at is that even though this story shares elements with previous dystopias, I still think it's original in its own way.
The story is so fast paced, so full of action and drama that I spent the entire time at the edge of my seat, waiting for the next terrible thing to happen. And it did, so many times! The turns and twists of the plot were everywhere, one after the other. I grew so attached
to Mare that I didn't felt safe the entire time I was reading, because I just kept waiting for danger to come out of every corner she turned. I guess in that sense you could say it was kind of predictable, I knew something awful was going to happen and everything was going to go up in flames, but the whole journey leading to that events was priceless. A true experience, for me at least, and I really enjoyed it.
Overall, I think this was an amazing read. It hooked me since the very beginning and made it really difficult for me to put it down. The writing is great, the characters are complex and relatable, the plot is intricate and the moments of actions and big battles were exciting and awesome. I'll be definitely picking up the next book in this series.
Rating:
Reaction:
Victoria Aveyard is a writer repped by Suzie Townsend at New Leaf Literary & Media, Inc. She splits her time between her hometown East Longmeadow, Massachusetts and Los Angeles. After graduating with a BFA in Screenwriting from the University of Southern California, she decided to try her hand at writing a novel. Her debut RED QUEEN came out of the terrifying, unemployed year after college.

Currently she's revising the second book in the RED QUEEN series, along with pursuing other projects in literature and film. Her proudest achievements are riding a horse in the mountains of Montana and navigating from London to Edinburgh without GPS.