A Court of Thorns and Roses by Sarah J. Maas
A Court of Thorns and Roses #1
Published May 5th, 2015
Bloomsbury Children's
Young Adult/New Adult Fantasy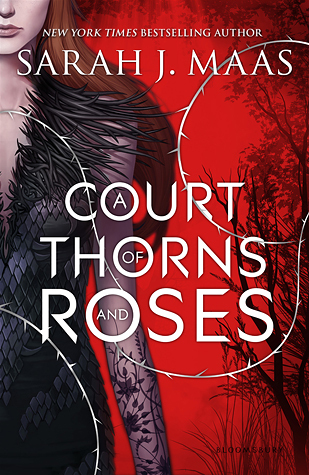 Premise:


A thrilling, seductive new series from New York Times bestselling author Sarah J. Maas, blending Beauty and the Beast with faerie lore.

When nineteen-year-old huntress Feyre kills a wolf in the woods, a beast-like creature arrives to demand retribution for it. Dragged to a treacherous magical land she only knows about from legends, Feyre discovers that her captor is not an animal, but Tamlin—one of the lethal, immortal faeries who once ruled their world.

As she dwells on his estate, her feelings for Tamlin transform from icy hostility into a fiery passion that burns through every lie and warning she's been told about the beautiful, dangerous world of the Fae. But an ancient, wicked shadow grows over the faerie lands, and Feyre must find a way to stop it... or doom Tamlin—and his world—forever.

Perfect for fans of Kristin Cashore and George R. R. Martin, this first book in a sexy and action-packed new series is impossible to put down!
My thoughts:
This might be the best book I've

ever read. If not, at least it is my new favorite book. It was so freaking fantastic! How good? I was ready to rate it 5/5 when I was less than half-way through it and when I finished it I wished I could have given it 1000/5 and that I could flip it over and start reading it again right away. That good.
Sarah J. Maas writing style is superb. The way she can create a world so out of the ordinary, so fantastic and yet so believable is astounding. Her worlds and characters have me thinking about them, even dreaming about them long after I've finished her books.
This particular world, is the best fairy-related world I've ever encountered in literature. It was really vivid and detailed without making me feel like I was reading lots and lots of descriptions. It's full of amazing creatures; some of them seem to have been pulled out of my most beautiful dreams and others out of my most terrifying nightmares.
This book is narrated in first person, which is a change from the Throne of Glass series, and I get why this is important. You'll get why this is important when you read the book. I'll only say that the plot twists that blew my mind in this book, wouldn't have been a big deal if it were written in third person and from multiple perspectives as Sarah's previous series. And I loved those plot twists. I was liking the book before them, but holy crap! They took it to a whole another level of awesomeness I wasn't expecting.
Let's get back on track. As I was saying, first person narrator; meet Feyra, our protagonist and narrator. She's the youngest of three sisters and oddly enough, the one that provides for them and their father after their family became poor due to their father lack of common sense (that's my take on it, but you'll find out soon enough if you read the book).
Feyra's family has been struggling to get by ever since they lost their fortune, and by struggling I mean nearly starving to death. But Feyra made a promise to her mother on her deathbed to take care of her sisters. So, she learns to hunt, she starts providing for their entire family. Think Katniss, from The Hunger Games, only worse. Because at least, Katniss had an adorable little sister who appreciated everything she did for their family. Feyra's sisters were the most ungrateful bitches you can imagine. Always complaining about not having enough money, or clothes or whatever, sitting on their asses all day while Feyra had to go risk her life in the woods, nearly freezing to death, trying to hunt the food that kept them alive. I was so freaking mad at them, I don't think I've ever wanted to strangle a character more than I wanted to strangle them. They were such spoiled brats that if I were as resourceful as Feyra I would've left them to starve and go live by myself somewhere else, because they never did anything for her, never even thanked her for what she did. Aggh! I could go on and on about how much they infuriated me but we'll be here forever, so moving on!
One fateful day, while hunting, Feyra encounters a huge wolf stalking the same doe she was intending to hunt, so she kills it, kills the doe and returns home with her prize. The next day an enraged Fae-beast blasts through their door looking for the killer of the wolf, who turned out to be a Fae too and now Feyra has to face the consequences of having killed one of them. Tamlin, the Fae-beast, explains that the Treaty signed many years ago, between Fae and humans states that the killer of a Fae must pay with her/his life. A life for a life. But Tamlin is willing to take advantage of a loophole, allowing Feyra to live her life in Prythian, the land of Fae in replacement for the life she took.
Prythian is an intricate, breathtaking world run by the politics and magic of powerful immortal creatures. This world has been enclosed by a wall to separate Fae and humans after a war that almost ended the human race. In those ancient times, the Fae would take humans as slaves and that originated many of the legends and superstitions that humans has learned of throughout generations, and that's the reason why most humans fear and hate the Fae people, including Feyra at the beginning of this book.
Sarah J. Maas has a way of creating whole casts of fascinating, multi-dimensional and relevant characters that I haven't seen since J.K. Rowling. The cast in ACOTAR is freaking huge! But I still remember each and every name and love all characters to bits.
I really felt for Feyra and found her to be a really especial character. I know she's supposed to be Sarah's version of Bella from Beauty and the Beast, and she indeed is for the sake of the plot a lot like her. But also, she's different, she has different hobbies, to say the least. So she is most definitely not just a pretty girl. She's really brave and loyal and more resourceful that most people give her credit for. I absolutely loved her as a main character.
I really liked Tamlin too. He was sweet and tried really hard to get Feyra to like him. I loved those awkward moments at the beginning of their relationship and how they turned into a beautiful thing later on. I also love his roughness around the edges and his protectiveness over Feyra even though sometimes I didn't agree with his decisions.
Then we have Ryhs who might be the most interesting character in this whole book, especially since we get very little of him in comparison with other characters. He seems like he's so much more than what meets the eye and I can't wait to find out more about the Night Court and him in the next book.
The one that absolutely stole my heart though, was Lucian. He was genius. I love his lines of dialogue over anyone else's and how rounded a character he was. All rough and snarky but with a heart of gold and completely loyal to Tamlin. I just couldn't get enough of him. I hope we get more of him in the next few books, because I love him to pieces.
The pace of this book was really particular. We get a powerful beginning with a lot of changes for our protagonist, since we follow Feyra entering this new world of Fae creatures and leaving behind the only world she's ever known. Then, the middle of the book is really slow paced and normally that would've bother the hell of out me, but I was so enthralled with the world-building and learning about the politics of the courts and the rites and the gorgeous characters and the sweet slow-building romance that I read it all as if it were fast-paced action, I didn't want to put down the book. And then finally, the whole book explodes into full action and big moments, huge revelations and mind-blowing plot twists I didn't see coming despite some of them being very obviously foreshadowed. I kept getting more and more nervous with every page nearing the end; for one I didn't want the book to end because I was loving it so much that I was dreading having to part ways with the characters. And also, Good Lord! Those lasts scenes had me talking to myself, praying for the characters and biting my nails like nobody's business.
Overall, I don't think I could've loved this book more than I did. It was like it was written just for me. The world, the characters, the writing, it was all mesmerizing and I can't wait for the next one... I can't believe it doesn't come out until next year, I need it right now. From this moment on, I hereby swear to buy and read every single book written by Sarah J. Maas because she's the best.
Rating:
Reaction:

About the author
Sarah J. Maas is the New York Times and USA Today bestselling author of the Throne of Glass series (Queen of Shadows, Book 4, will be out in September 2015), as well as the A Court of Thorns and Roses series (out 5/5/15).





Sarah lives in Bucks County, PA, and over the years, she has developed an unhealthy appreciation for Disney movies and bad pop music. She adores fairy tales and ballet, drinks too much tea, and watches an ungodly amount of TV. When she's not busy writing, she can be found exploring the historic and beautiful Pennsylvania countryside with her husband and canine companion.