Tonight the Streets Are Ours by Leila Sales
Published September 15th, 2015
Farrar, Straus and Giroux (BYR)
Young Adult Contemporary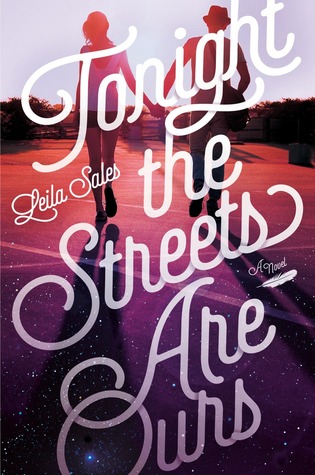 Premise:From the author of This Song Will Save Your Life comes a funny and relatable book about the hazards of falling for a person you haven't met yet.

Seventeen-year-old Arden Huntley is recklessly loyal. Taking care of her loved ones is what gives Arden purpose in her life and makes her feel like she matters. But she's tired of being loyal to people who don't appreciate her—including her needy best friend and her absent mom.

Arden finds comfort in a blog she stumbles upon called "Tonight the Streets Are Ours," the musings of a young New York City writer named Peter. When Peter is dumped by the girlfriend he blogs about, Arden decides to take a road trip to see him.

During one crazy night out in NYC filled with parties, dancing, and music—the type of night when anything can happen, and nearly everything does—Arden discovers that Peter isn't exactly who she thought he was. And maybe she isn't exactly who she thought she was, either.
My thoughts:
I'm so sad that this book wasn't what I was expecting... I was highly anticipating its release for months and now I just feel a little deflated. It wasn't the worst I've read, but it wasn't satisfying either.
The story starts off really slow and at first it goes from present to past to "distant" past to present again, which was a little bit confusing but I was still following. Then there's a lot of nothingness. like a good 150 pages of nothingness. Then things starts happening (finally), and for a second it was all kind of okay and there everything went to hell and we end up pretty much where we started. (Spoiler:

plus a message about love, minus a boyfriend.

Select the text if you want to read it).
The premise of this book sounds way better than it actually is and I completely fell for it. I'm going to make a comparison of my expectations going into the book (from the premise described in Goodreads) vs what the book actually was, so I can explain my disappointment to you. But beware, knowing what to actually expect from this story might be the biggest spoiler.
What I expected: An effortlessly kind main character who loves her friends and family and does what she can to make them happy, because it's just what comes natural to her.
What I got:
A main character, Arden, who feels the need to point out every single time she's been kind to someone and bitching about how they don't appreciate how nice she is and complaining that she can't do anything but being nice, because that's the only thing that's special about HER, so they better notice that she's unbelievably kind!
What I expected: A best friend who was needy and always asking for favors of our main character and our main character always saying yes, because of their friendship.
What I got: This is not how friendship works! Arden was always coming to Lindsay's rescue just because that made her feel important, not even because Lindsey ever asked anything of her or that she really needed her to save the day every time! I'll admit that Lindsay was always getting herself in trouble, she never asked Arden to help her get out of it, I didn't even feel like she expected her to do it, but the problem was that she let Arden save her ass over and over again, no matter what the consequences were for her friend. So, overall, we have two pretty crappy friends, in my opinion: one doesn't know how to say "thank you, but I made a stupid decision, so I'll be the one to deal with it" and the other one was always just waiting for her friend to screw up so she could save the day and feel better about herself. The whole relationship seemed unhealthy to me, but what bothered me the most was Arden being extremely patronizing towards her so called BFF, like she was so superior... Aghh!
What I expected:
The blog platform taking a central spot during the story, because that's what made this book so appealing in the first place.
What I got: Bits and pieces of blogging here and there in the midst of an ocean of whinnying from the main character.
What I expected: An actual relationship between the main character and the blogger.
What I got: Arden stalking Peter for more than half the book. Peter didn't even know she existed -because she never even left a comment in the blog- until she shows up at his workplace on a whim, after being disappointed (yet again) by her boyfriend. Here's her reasoning: "Peter just broke up with the love of his life, he doesn't know it yet, because he doesn't know me at all, but he needs me, not just anyone, but ME. So I must drive over six hours in my car that is barely holding itself together to get to New York, without telling anyone but my friend (who's coming with me, by the way, because she doesn't answer to her parents...) where I'm going"... Flawless logic! Especially considering he could turn out to be a psychopath!
What I expected:
Peter, having a secret or being slightly different that he appeared, but overall still a decent guy.
What I got: Peter being a complete self-centered, entitled asshole who had lied his way into getting a fan base and a publishing contract.
What I expected: A few of the supporting characters being kind of selfish and self-involved but that being okay, because nobody is perfect.
What I got: Every single person in Arden's life being completely and utterly self-centered. Her dad, her best friend, her mom, her boyfriend, freaking Peter, and of course, HERSELF!
So... when I say this wasn't what I was expecting, I absolutely mean it.
My lowest rating is 1/5, and I seriously considered giving it just that, but I'm giving an extra point because, at the end, the main character seemed to realize that her behavior wasn't right even though to me, she still sounded as if she was doing it for everyone else and not just for herself.
"I used to think that loving somebody meant sacrificing anything for them. I thought it meant writing them a blank cheque. I thought it meant that you would die without each other. But it turns out that death and a broken heart are not he same.
These days, I think that love is not so dramatic as all that. Maybe loving somebody means simply they bring out the best in you, and you bring out the best in them - so that together, you are always the best possible versions of yourselves."
Overall, and simply put, I would not recommend it.
Rating:
Reaction:
Leila Sales was born in 1984 and grew up outside of Boston, Massachusetts. She graduated from the University of Chicago with a degree in psychology in 2006. Now she lives in Brooklyn, New York, and works in the mostly glamorous world of children's book publishing. Leila spends most of her time thinking about sleeping, kittens, dance parties, and stories that she wants to write.