Crown of Midnight by Sarah J. Maas
Thorne of Glass #2
Published August 27th, 2013.
Bloomsbury USA Childrens
Young Adult Fantasy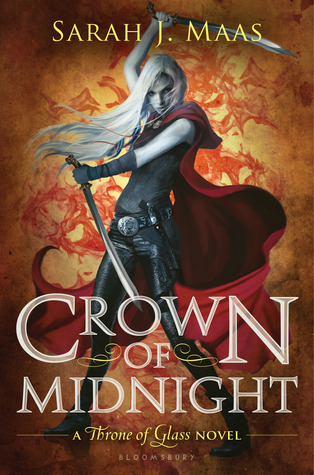 Premise:


"A line that should never be crossed is about to be breached.

It puts this entire castle in jeopardy—and the life of your friend."




From the throne of glass rules a king with a fist of iron and a soul as black as pitch. Assassin Celaena Sardothien won a brutal contest to become his Champion. Yet Celaena is far from loyal to the crown. She hides her secret vigilantly; she knows that the man she serves is bent on evil.




Keeping up the deadly charade becomes increasingly difficult when Celaena realizes she is not the only one seeking justice. As she tries to untangle the mysteries buried deep within the glass castle, her closest relationships suffer. It seems no one is above questioning her allegiances—not the Crown Prince Dorian; not Chaol, the Captain of the Guard; not even her best friend, Nehemia, a foreign princess with a rebel heart.




Then one terrible night, the secrets they have all been keeping lead to an unspeakable tragedy. As Celaena's world shatters, she will be forced to give up the very thing most precious to her and decide once and for all where her true loyalties lie... and whom she is ultimately willing to fight for.
Review
My thoughts:
This book was freaking fantastic! It was like a slap across the face for all of those sequels that suffer from the "second installment syndrome". It was even better than Throne of Glass and I really loved that book to begin with. It had lots of action, magical mysteries, huge revelations and plot twists, heart-breaking moments and beautiful romance.
In this book we finally get a glimpse at just how unbelievable deadly Celaena can be. I mean, don't get me wrong, I knew she was bad-ass from the first book, but then she would mostly talk about what she had done... In this book she gets her hands dirty and bloody and we actually get to see it happen with all the gore and guts. But even now, when she's finally embracing the deathly assassin within her again, we get moments when we get to see her completely vulnerable and deeply hurt.
I love all the sides to Celaena. She's such a multi-dimensional character! She feels real to me and that's really amazing coming from a high fantasy series.
In this book we learn a lot about Chaol too, we finally get a glimpse at the well-guarded mind of the Captain and it's amazing. He's a tough guy but also fiercely loyal and capable of such deep feelings of love and protectiveness that would do anything for the sake of the ones he loves. During the first half of the book I though I was walking straight into Team Chaol and never looking back. He was so adorable and understanding towards Celaena that I couldn't help but fall for him. There were scenes between those two that had me in tears both from sheer happiness and devastating sadness.
But then Dorian... He's dealing with the most unexpected kind of stuff in this book. The first half of the book (while I was loving Chaol), Dorian was being kind of brat, with his passive-aggressive attitude towards Celaena. But then, when the shit hit the fan for like the umpteenth time, I felt like Dorian could be my real true love, I just wanted to reach out and hug him and tell him everything was going to be okay.
And then at the very end, I struggled going back and forth between them with my heart broken in million pieces. In fewer words: I freaking love this love triangle! It's amazingly well done.
In regards to the plot, the best way to describe it is: out of this world! There is so much going on! There a lot of huge revelations in this book and with each one the plot thickens a bit more and everything begins to fall into its rightful place.
In this book many of the threads that were left kind of loose in the first installment, came together, creating a web of intrigue and secrets so well guarded that is threatening to destroy the world as our characters know it.
We learn about the whole underground revolution that is brewing in Rifthold and we also get to know a bit about some new characters, like Archer, the courtesan who Celeana is ordered to kill in the name of the King.
Nehemia plays a huge role in this installment and all of her secrets and real intentions are revealed by the end of the book. Some of them I was expecting, some of them blew my mind.
Overall, this book was one of the best sequels I've read in a long time. It had everything most of the other YA sequels are missing; the plot move along at a pace that was just right for the story, the characters grew into themselves and we were given game-changing information. This was most definitely not a filler book. The ending provided some utterly heart-breaking closure, but still left plenty of mysteries for the next book and I'm really excited to find out what's going to happen next.
Rating:
Reaction:
About the author



Sarah J. Maas is the New York Times and USA Today bestselling author of the Throne of Glass series (Queen of Shadows, Book 4, will be out in September 2015), as well as the A Court of Thorns and Roses series (out 5/5/15).




Sarah lives in Bucks County, PA, and over the years, she has developed an unhealthy appreciation for Disney movies and bad pop music. She adores fairy tales and ballet, drinks too much tea, and watches an ungodly amount of TV. When she's not busy writing, she can be found exploring the historic and beautiful Pennsylvania countryside with her husband and canine companion.