The Kiss of Deception by Mary E. Pearson
The Remnant Chronicles #1
Published July 8th, 2014
Henry Holt
Young Adult Fantasy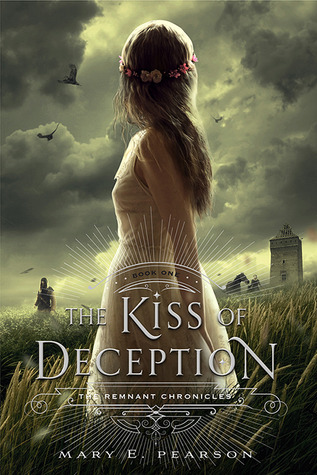 Premise:
A princess must find her place in a reborn world.
She flees on her wedding day.
She steals ancient documents from the Chancellor's secret collection.
She is pursued by bounty hunters sent by her own father.
She is Princess Lia, seventeen, First Daughter of the House of Morrighan.
The Kingdom of Morrighan is steeped in tradition and the stories of a bygone world, but some traditions Lia can't abide. Like having to marry someone she's never met to secure a political alliance.
Fed up and ready for a new life, Lia flees to a distant village on the morning of her wedding. She settles in among the common folk, intrigued when two mysterious and handsome strangers arrive—and unaware that one is the jilted prince and the other an assassin sent to kill her. Deceptions swirl and Lia finds herself on the brink of unlocking perilous secrets—secrets that may unravel her world—even as she feels herself falling in love.
My thoughts:
I still don't really know how I feel about this book. I picked it up because many people I follow on YouTube said amazing things in their reviews and highly recommended it. I don't think I'm that enamored with it, but I still enjoyed it.
This is the story of Lia, a teenage princess who's about to marry a prince from another kingdom who she hasn't even met yet. She's a free spirit and doesn't like the court life she's been living since she was a child, she would rather live a simple life and take care of herself instead of having an entourage of people scrutinizing her every move. So, she flees the castle right before the wedding and goes looking for a city far away where she can have her dreams come true. Everything seems to be completely normal and mostly uneventful for a while, but then two mysterious guys show up at the tavern where she'd started working, they both are more than what meets the eye, that much, Lia knows. What she doesn't know is that one of them is the prince she refused to marry and the other is an assassin who's been sent to kill her.
I really liked Lia. I think she is a strong character with a lot more to her than everyone gives her credit for. She's compassionate even towards people who don't really deserve it. Her running away from an important commitment could be seen as childish and selfish, but it also shows just how determined she is to get what she wants and not to be pushed around like a puppet by her parents.
The story is told from different points of view. The main one is Lia's, but we also get a lot of Kaden's and Rafe's, and Pauline's only once, I believe. The thing is that just like Lia, we don't know who is who for most of the book. We at least know there's an assassin and a prince (which Lia doesn't), and we get their points of view, but with no names mentioned for at least two thirds of the book. So, it's just a big guessing game and it got a little confusing at times. This was the main plot device in the story so you had to be looking out for every little thing the guys did so you could try and figure the whole thing out. It was entertaining and exciting but confusing. I felt like I would have to read the whole thing again knowing their identities to really make sense of the characters, which takes away a little from the character development that Rafe and Kaden go through. Also, at the end, even though we finally learn their roles, there are still a lot of secrets from their pasts that have been hinted to be important a lot of times but didn't get resolved or explained and it just kind of adds to the confusion.
The romance is pretty subtle but it is there. It consists mostly of flirting and exchanging knowing glances. There is kissing, but not as much as one would expect from a book called "The Kiss of Deception", since the kissing done wasn't all that spectacular either. I hope the next book will deepen the connection between the characters and it all will feel more sexy and swoon-worthy.
I can't decide if the world building was extremely big and complex and I'm just stupid and didn't understand how the whole thing worked, or if it was just all over the place and stretched too thin trying to encompass way too much. Maybe it all will be explained in the next book. I don't really know but I didn't get it. The book has a map at the beginning and that helped a little, but the map didn't explain why Morrighan was at war with Venda, unless you consider "because they are savages and we are not" enough of an explanation, or why Dalbreck didn't really trust Morrighan and needed the marriage between its prince and Lia to take place so badly.
The magic system is interesting but still has a lot left to develop because the rules aren't clear enough. I don't think that slapping pieces of allegiadely ancient texts together in some sort of riddle is explanation enough for how the system works. I hope we'll get more details in the next book so it'll al make sense then.
Overall, I enjoyed the read. It was slow-paced for the most part, but nearing the end it picked up the pace considerably, leaving the story on a exciting cliffhanger, setting the path for the sequel. I only hope the next book will contain the answers to all of my numerous questions and it will make the series much better as a whole.
Rating:
Reaction:
About the author
Mary E. Pearson is the award-winning author of The Jenna Fox Chronicles, The Miles Between, A Room on Lorelei, and Scribbler of Dreams. She writes full-time from her home office in California where she lives with her husband and two golden retrievers.