All the Bright Places by Jennifer Niven
Published January 6th, 2015.
Knopf.
Young Adult Contemporary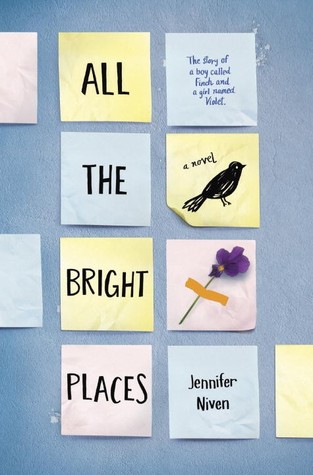 Premise:
The Fault in Our Stars meets Eleanor and Park in this exhilarating and heart-wrenching love story about a girl who learns to live from a boy who intends to die.
Soon to be a major motion picture starring Elle Fanning!
Theodore Finch is fascinated by death, and he constantly thinks of ways he might kill himself. But each time, something good, no matter how small, stops him.
Violet Markey lives for the future, counting the days until graduation, when she can escape her Indiana town and her aching grief in the wake of her sister's recent death.
When Finch and Violet meet on the ledge of the bell tower at school, it's unclear who saves whom. And when they pair up on a project to discover the "natural wonders" of their state, both Finch and Violet make more important discoveries: It's only with Violet that Finch can be himself—a weird, funny, live-out-loud guy who's not such a freak after all. And it's only with Finch that Violet can forget to count away the days and start living them. But as Violet's world grows, Finch's begins to shrink.
This is an intense, gripping novel perfect for fans of Jay Asher, Rainbow Rowell, John Green, Gayle Forman, and Jenny Downham from a talented new voice in YA, Jennifer Niven.
Review
My thoughts:
I absolutely loved this book.
This is the story of Theodore Finch and Violet Markey. They are teenagers and classmates but they have lived in different social universes for the longest time. They properly meet in a completely inappropriate way: standing at the top of the bell tower at school, thinking about ending their lives.
Theodore is the freak, the weird kid everyone chooses to ignore, from whom suicide is nothing but expected. Violet Markey is the IT girl, the one who's smart and popular and even if she lost her sister a year ago to a tragic car accident, nobody expects her to fling herself off of the bell tower. So, when people notice them both up there, it's clear that she's the one trying to save her crazy classmate, because that's just who she is. But life works in mysterious ways and the truth is that Theodore has just talked down Violet from that tower. And now only he knows her truth. She's been saved, but what about him? Can he be saved too?
When they start working together for a Geography project, both of them feel lost in different ways, but soon they begin feeling like as long as they are together they're not lost, they are wandering.
I'm absolutely, completely and irrevocably in love with Theodore Finch. He's struggling so much throughout the story, but still manages to be funny and thoughtful and even when he isn't able to get himself out of his darkness, he's still trying to pull Violet out of hers. Even when he's profoundly obsessed with death and suicide, he is the one who teaches Violet how to go back to living her life.
It's so ironic that Violet (who has all the support she could need; from her parents, her friends and her teachers) is the one person who needs Finch the most. Who needs this guy that is not afraid of breaking her, that is not afraid to ask her about her sister, that is not afraid to ask the questions nobody else dares to ask her, the important ones. It's so ironic and yet it's what happens in real life.
The subject of mental illness is a powerful and dark one. As a psychology student I know that the illness that affects the mind can be just as destructive and devastating as the one that affects the body. And the thing I liked most about this book is how the subject was treated in an honest, respectful manner, not only as a list of symptoms but as a person's reality, including the way other people react to it. The stigmas that are common with this types of illness were there, the author didn't try to cover them up to make it all look prettier.
If you're suffering from cancer, most people wouldn't even dream of blaming you for it. It's just a tragic thing that happens to humans because our bodies work that way, and it's totally okay if your tired all the time and don't have the energy to get up sometimes, because your illness is real (I'm not saying it doesn't suck, because it must, royally. I'm not in any way saying that they have it better or that they don't struggle). But if you suffer from depression or anxiety or a any other mental illness, there's always people who think you're trying to get attention or that you're just making it up because you're lazy and you don't want to get up in the morning. Or simply, they say "that how she/he is", like its your fault that you suffer from that illness.
I liked that Finch's parent were that kind of people, even though it broke my heart. Because that is the truth that so many others face in real life. And that made the story all the more real, powerful and striking.
Having said all that, there was so much light in this story too. There were a lot of funny moments and the whole book could almost be read like any other road-trip story, with all the adventures and random conversations. There was still a lot of hope and a lot of positive messages throughout this book despite the theme being something we're used to consider as "dark". The characters were like real people with light and shadow all in one, strengths and weaknesses, ups and downs and that's what made it so great in the end.
Overall, I think this is a book written from a real place. It's fiction but it's still honest.
It was heartbreaking and heartwarming, hilarious and unbelievably sad, unapologetic in its authenticity and just overall wonderful. It's the perfect book to raise awareness of mental illnesses in a respectful manner.
Rating:
Reaction:
About the author
By the time she was ten, Jennifer Niven had already written numerous songs, a poem for Parker Stevenson ("If there were a Miss America for men, You would surely win"), two autobiographies (All About Me and My Life in Indiana: I Will Never Be Happy Again), a Christmas story, several picture books (which she illustrated herself) featuring the Doodle Bugs from Outer Space, a play about Laura Ingalls Wilder's sister entitled Blindness Strikes Mary, a series of prison mysteries, a collection of short stories featuring her as the main character (an internationally famous rock star detective), and a partially finished novel about Vietnam. She

was also an excellent speller from a very early age.
In 2000, she started writing full-time, and she hasn't stopped... She has written eight books, and when she's not working on the ninth, she's contributing to her web magazine, Germ, thinking up new books, and dabbling in TV. She's always writing.