Rebel Belle by Rachel Hawkins
Rebel Belle #1
Published April 8th, 2014.
Putnam Juvenile.
Young Adult Paranormal Fantasy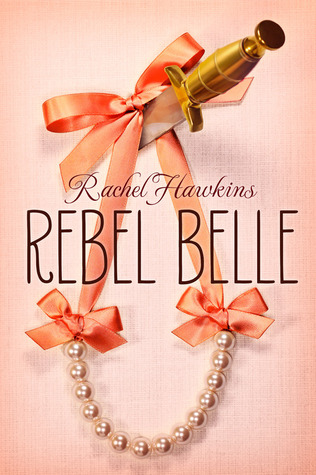 Premise:

Harper Price, peerless Southern belle, was born ready for a Homecoming tiara. But after a strange run-in at the dance imbues her with incredible abilities, Harper's destiny takes a turn for the seriously weird. She becomes a Paladin, one of an ancient line of guardians with agility, super strength and lethal fighting instincts.

Just when life can't get any more disastrously crazy, Harper finds out who she's charged to protect: David Stark, school reporter, subject of a mysterious prophecy and possibly Harper's least favorite person. But things get complicated when Harper starts falling for him—and discovers that David's own fate could very well be to destroy Earth.

With snappy banter, cotillion dresses, non-stop action and a touch of magic, this new young adult series from bestseller Rachel Hawkins is going to make y'all beg for more.
I feel so stupid! How did I not realize that this book was written by the same author who wrote Hex Hall? I mean the writing style seemed familiar somehow and the author's name too... But I just couldn't put two and two together until I had already bought it and started reading it.
Oh, well. I liked this book. It was a really fun read and if I had made through it without realizing who the author was, I probably would've given it another star. That's how expectations work, I suppose.
I liked Harper and David although I don't feel like I got to know them really well. The secondary characters are even worse in that respect. I mean, I barely even know their names and didn't really feel like they played a particularly instrumental role in the story. I hope that we get to know them better in the next book because right now the only things that keep me interested in this trilogy are: the plot/concept and the author's name.
That said, I think this actually has a lot of potential. I've never even heard of Paladins outside of World of Warcraft and it was refreshing to read a book with a completely unexplored supernatural deal going on. I really liked the pacing and I flew through the book, finishing it in one sitting. The writing is simple and easy which goes really well with the fast-paced quality of the book. The story has a lot of critical moments, but the action scenes were kind of lacking. Here's where the fast-paced element went wrong: everything happened way to fast and then it was over, every time. Except maybe for the high-speed-car-chasing-thing. That was cool!
I know I've mostly said negative things about this book and that's mainly because once I learned who the author was, I couldn't help but compare this book to her previous ones and the Hex Hall series is one of my favorites and this one didn't quite meet my expectations. But I DID like this book. And I plan on continuing this series .
Rating:
Reaction:
Rachel Hawkins was born in Virginia and raised in Alabama. This means she uses words like "y'all" and "fixin'" a lot, and considers anything under 60 degrees to be borderline Arctic. Before deciding to write books about kissing and fire (and sometimes kissing while on fire), Rachel taught high school English for 3 years, and is still capable of teaching you The Canterbury Tales if you're into that kind of thing.

She is married to a geologist, which means that they have incredibly strange dinner conversations ("So today at work, I wrote a chapter where killer fog, like, ATE PEOPLE." "Huh. Well, I was chased by an angry reindeer while trying to map parts of Norway." "Um...okay.")

Rachel also has a little boy whose main hobbies are playing video games, running around in circles, and plotting his Future Intergalactic Take-Over.

When not writing books, Rachel enjoys reading, travelling, and knitting (very terribly.)