To All the Boys I've Loved Before by Jenny Han


To All the Boys I've Loved Before #1
Published April 15th, 2014
Simon & Schuster Books for Young Readers
Young Adult Contemporary Romance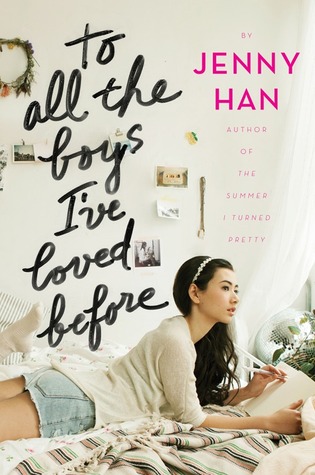 Premise:
To All the Boys I've Loved Before is the story of Lara Jean, who has never openly admitted her crushes, but instead wrote each boy a letter about how she felt, sealed it, and hid it in a box under her bed. But one day Lara Jean discovers that somehow her secret box of letters has been mailed, causing all her crushes from her past to confront her about the letters: her first kiss, the boy from summer camp, even her sister's ex-boyfriend, Josh. As she learns to deal with her past loves face to face, Lara Jean discovers that something good may come out of these letters after all.
Review
My thoughts:
This book was adorable, heart-warming and sweet. It's written in first person, from Lara Jean's point of view and the writing was truly compelling, it really drew me in to the main character in a way that made me feel like I was her best friend and I liked that. The pace wasn't too fast nor too slow, it was normal for a contemporary read.
I really liked the main character. She was really especial and unique. She reminded me a bit of Lola from Lola and the Boy Next Door by Stephanie Perkins, because they both are so quirky in their own way. I liked that she wrote letters to say goodbye to people when she was ready to let go of them. I used to do something similar when I was in middle school and maybe even on my first years of high school. I would write letters to the boys I liked and then never send them, just keep them hidden.
I liked the relationship she had with Josh, although I imagine it would have been very painful for her being in love with him for so many years and having to bottle up all those feelings while her sister dated him.
The thing about Lara Jean (The name annoyed me so much for no real reason, I can't explain it to you, it sounded too weird, I don't even know) is that she pulls you into her mind and makes you side with her. I felt so drawn to her that I would take her side in every fight she got into, because I felt like I understood her so well. The only thing we didn't agree on was Margot. She admire her so much and I hated her for being always so
patronizing
and knocking off everything Lara Jean tried to do. Like: "Yeah, I know you can do that, but I'll always be better than you at it". I hated her attitude and I truly admired Lara Jean for putting up with her.
I didn't like Chriss either. She wasn't that good of a friend and I understood why everyone kept telling Lara Jean that they didn't get why she was friends with her, because I didn't feel like she contributed in any positive way to Lara Jean's life.
I really liked Peter. He was kind of a complex character. I usually don't like his type. The type of guy who's too concerned with what other people think about him, to be himself. But he would always do or say something incredible sweet to Lara Jean and my heart would melt. I think they are really good for each other, he helps her come out of her shell while she helps him to be more of himself.
The character that truly stole my heart though, was Kitty. She was adorable! Such smart and mischievous little girl. She never failed to bring a smile to my face. I absolutely loved her.
The ending though... I hated it. It didn't give me closure I wish it had. It just stopped right before the point where it should have ended, and it made me feel cheated, like I had to go and read a whole other book just so I can get the ending that should've been there!
Overall this is a great contemporary read. It's a romance, but it's also about family and friendship and conquering your fears. I really enjoyed it and I'll be picking the next one right up.
Rating:
Reaction:
P.S. I Still Love You by Jenny Han
To All the Boys I've Loved Before #2
Published May 26th, 2015
Simon & Schuster Books for Young Readers
Young Adult Contemporary Romance
Premise:Lara Jean didn't expect to really fall for Peter.
She and Peter were just pretending. Except suddenly they weren't. Now Lara Jean is more confused than ever.
When another boy from her past returns to her life, Lara Jean's feelings for him return too. Can a girl be in love with two boys at once?
In this charming and heartfelt sequel to the New York Times bestseller To All the Boys I've Loved Before, we see first love through the eyes of the unforgettable Lara Jean. Love is never easy, but maybe that's part of what makes it so amazing.
Review
My thoughts:
I liked this book too. Although I don't think I liked it as much as the first one.
This book picks up just where the last one left off and Lara Jean and Peter make up and decide to give it a try at a real relationship. We get to see them on their first date and everything is just really cute at first, but then trouble comes knocking at their door when a video of them from that ski-trip that caused them to break up in the first book, goes viral on the Internet and they become the juiciest piece of gossip at school.
With his happening we get to see the double standard that exists for this kind of situations. Everyone is saying Lara Jean is a slut, but Peter doesn't get any shame for being in the video, even though he's as much part of it as she is. That drove me insane, but also I know that's what actually happens in real life. It's always the girl who gets called names and shamed in public for taking part in these kind of videos, and the guy is barely even remembered and when he is, it's like he's a freaking hero for getting laid or whatever. It's freaking maddening!!
Breathe... Breathe... okay, moving on!
The truth is that there were a lot of moments in this book where I felt like everything was just dragging on and nothing important was happening. Like the scenes with Criss, who I still don't like. She never did anything of importance in the book and every time she appeared in a scene I could feel myself rolling my eyes at her.
Margot grew on me a little in this book, but mostly because she was out of the way. This book was truly about Lara Jean and her boys, which I realize sounds pretty bad but it's not like that, I promise!
I was sad that Josh was barely around in this book. The friendship he and Lara Jean had was really adorable and genuine that I was really disappointed that they couldn't work through their issued and stay friends.
I like that we got to know one of the other boys! I'm not saying who it is, so I won't spoil you. Let's call him boy #2. Boy #2 was a really great guy! He was fun and sweet and confident without falling into the cocky category. He treated Lara Jean really well and they made the perfect little couple in my eyes.
I liked Peter in this book too, especially at the beginning. But around the middle I just grew tired of him and his antiques. He would keep running to Gen every time she would call him and I never felt like he would put Lara Jean before her in any situation. There was always some excuse for him to put Gen first and I resented him for that.
I don't really know if I liked the end to be honest. It was fairly predictable and I kind of knew it would happen like that, but I didn't think the excuses for all the fighting were good enough and I didn't feel like all the issues were actually resolved, just overlooked.
Overall, I enjoyed this book and I thought it was quite good, not better than the first one, but still. I think this series is worth a try if you like unique main characters, nice family atmosphere and romantic drama in your contemporary reads, like I do. I'll be checking out more of Jenny Han in the future.
Rating:
Reaction:
About the author

Jenny Han (Han like Han Solo, not Han like hand) was born and raised in Richmond, Virginia. She went to college at the University of North Carolina at Chapel Hill (Go Heels!) and she went on to graduate school at the New School in New York City, where she received her MFA in Writing for Children. She lives in Brooklyn.