Alive by Scott Sigler
The Generations Trilogy #1
Published July 14th, 2015
.
Del Rey.
Young Adult Sci-Fi Dystopia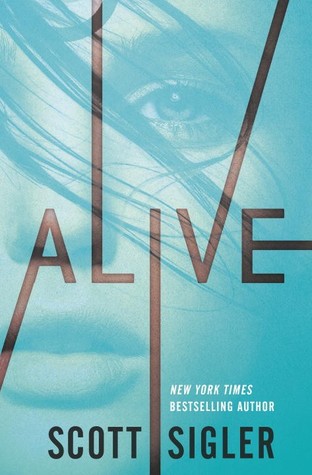 Premise:
From New York Times bestselling author Scott Sigler comes something utterly new: a gripping sci-fi adventure trilogy in the vein of The Hunger Games, Divergent, and The Maze Runner. A group of young adults awake in a mysterious enclosed space with no knowledge of who they are or how they got there…and an indomitable young woman must lead them not only to answers but to survival.



A young woman awakes trapped in an enclosed space. She has no idea who she is or how she got there. With only her instincts to guide her, she escapes her own confinement—and finds she's not alone. She frees the others in the room and leads them into a corridor filled with the remains of a war long past. The farther these survivors travel, the worse are the horrors they confront. And as they slowly come to understand what this prison is, they realize that the worst and strangest possibilities they could have imagined don't even come close to the truth.
Alive is a complex dystopia. It's divided in five parts and each part brings about something new and unexpected. A bunch of children wake up in a coffin with no memory of who they are or what they're doing there. Each one of them is sure that it is their 12th birthday, but they all look to be at least 20 years old. Neither of them feels like their bodies are the sizes they should be.
The story is told from M. Savage's point of view, in first person present, which I normally don't like much, but it works perfectly for this story. You know exactly what the characters know and you discover everything along with them. Our main character will take on the task of being the leader of this group which doesn't sit well with everyone, because if you know nothing about yourself or the ones that surround you, how do you decide who should lead? They're all perfectly blank slates with faded memories, so every new piece of information will rock their world and cause tension, conflict and fear. This is the story of their journey to the truth, to freedom and it's a hell of a bumpy road.
The characters are really diverse in terms of personality and strengths, which makes it imperative that they all work together in order to survive. Easier said than done. The main character is strong but flawed, brave but not fearless. She has to make difficult moral and practical decisions along the way and this puts to the test our ability to relate to her. There's a lot of "right or wrong" decisions to be made and sometimes the best decision doesn't seem completely right.
There are a lot of plot twists and turns, each moment of action is followed by a moment of calm and quiet. Rinse and repeat. That's the pace of the story. It's a roller coaster ride.
This is as much as I can tell you about the book without ruining its magic for you. You have to read it for yourself.
For my part, I really enjoyed it even though I think some of the parts were longer than they needed to be. Overall, I think this book is definitely worth a read, for it adds a fresh perspective to the dystopian genre.
Rating:
New York Times best-selling author Scott Sigler is the creator of fifteen novels, six novellas and dozens of short stories. His works are available from Crown Publishing and Del Rey Books.




In 2005, Scott built a large online

following by releasing his audiobooks as serialized podcasts. A decade later, he still gives his stories away — for free — every Sunday at scottsigler.com. His loyal fans, who named themselves "Junkies," have downloaded over thirty-five million individual episodes.




Scott is the co-founder of Empty Set Entertainment, which publishes his Galactic Football League series. He lives in San Diego, CA, with his dog Reesie.