Heir of Fire by Sarah J. Maas
Throne of Fire #3
Published September 2nd, 2014
Bloomsbury USA Childrens
Young Adult Fantasy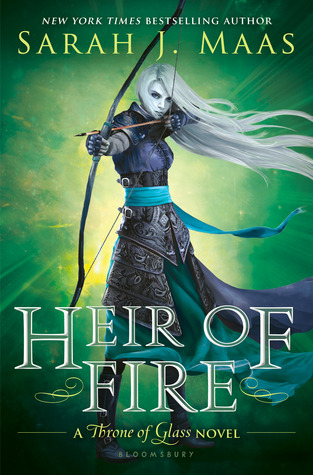 Premise:
She was the heir of ash and fire, and she would bow to no one.
Celaena Sardothien has survived deadly contests and shattering heartbreak—but at an unspeakable cost. Now she must travel to a new land to confront her darkest truth...a truth about her heritage that could change her life—and her future—forever.
Meanwhile, brutal and monstrous forces are gathering on the horizon, intent on enslaving her world. To defeat them, Celaena must find the strength to not only fight her inner demons but to battle the evil that is about to be unleashed.
The king's assassin takes on an even greater destiny and burns brighter than ever before in this follow-up to the New York Times bestselling Crown of Midnight.
Review
My thoughts:
I'm so sad that this book wasn't what I was expecting. I've been loving this series and I was really hoping it would get better and better as a lot of reviewers had said. But unfortunately, I didn't think this book was better than the other two before it. For me it didn't even compare to them.
The book was really long, for starters. That always intimidates me a little, but I was fine with it when I started reading it, because I was expecting it to be more of the good stuff, so "the more the merrier" I said. The thing is, this book could've been a lot shorter and it would've been a lot better in my opinion.
There were so many perspectives in the narration and that worked in Crown of Midnight, but not here, I don't think. I didn't care about what was going on in Adarlan's castle or with the witches. I felt like all of that information could have been quickly relayed to Celaena when she returned from Wendelyn or shown through flashback sometime later and it was unnecessary to spend so much time shifting back and forth. It made me want to scream that this story was about Celaena and the other character should wait in line for their own spin-offs to come if they will, for the people who care about them to read.
I don't know if Manon side of the story will be relevant in the next books, I suppose it will or it wouldn't have been told in this one. But relevant or not it was my least favorite part of this book. I kept rolling my eyes every time a chapter from her perspective interrupted the story I really cared about. Interrupted Celaena's side of the story.
I didn't even care much for what Chaol was doing. I resented him so much through this book, for being so mild, for not being willing to take a stand for so long. For being afraid of magic even in the hands of her bestfriend and the woman he said he loved. My respect for Dorian grew a lot though. He was fiercely loyal to Celaena throughout this book, even when he found someone else to love and it broke my heart that he was so alone in dealing with his new powers.
As for Celaena... She was what kept me reading. Her whole story finally came out. And it broke my heart in pieces with every little bit of her that I learned. I was sobbing uncontrollably during the final big reveal of the night her parents were murdered. I felt all of her hopelessness all of her rage and terrible sadness. I related to her more than I ever thought I could and felt deeply for her.
Rowan I didn't like much. He was such a brute and terribly mean to Celaena for no real reason during the first part of the book. I do not get why so many characters in literature are this way, so awful to others and they get away with it because we're supposed to accept that they are this way just because they've had awful things done to them. The fact that you've been hurt in the past shouldn't be an acceptable excuse for inflicting unnecessary pain and suffering on others. I don't care if in the end he wasn't all that bad, I don't care if Celaena forgave him, I did not.
Since Celaena spent all of her time away from Chaol and Dorian, and Rowan being the asshole that he was, there was no real romance in this book. And surprisingly, that didn't bother me all that much. As I said, I stopped caring for Chaol somewhere along the way, and even though I would've like for something to happen between her and Dorian, it was not the time and most definitely not the place since they were in two different continents.
Overall, this book was a disappointment for me. I was really expecting it to be better and I know it could have, but it felt rather dull and boring with lots of waiting around and doing nothing. What I liked about it was that I was able to connect with Celaena in a deeper level and got to know her full story. For that reason I'm still waiting eagerly for Queen of Shadows, because no matter how many boring details and perspectives I have to go through to find out what happens to Celaena, I'll read 1,000 pages out of pure love for that character.
Rating:

Reaction:


About the author



Sarah J. Maas is the New York Times and USA Today bestselling author of the Throne of Glass series (Queen of Shadows, Book 4, will be out in September 2015), as well as the A Court of Thorns and Roses series (out 5/5/15).




Sarah lives in Bucks County, PA, and over the years, she has developed an unhealthy appreciation for Disney movies and bad pop music. She adores fairy tales and ballet, drinks too much tea, and watches an ungodly amount of TV. When she's not busy writing, she can be found exploring the historic and beautiful Pennsylvania countryside with her husband and canine companion.