Sweet Evil by Wendy Higgins
The Sweet Trilogy #1
Published May 1st, 2012
HarperTeen
Young Adult Paranormal Fantasy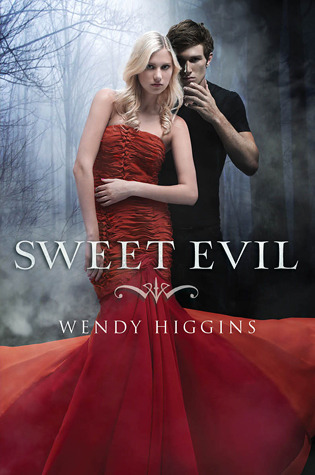 Premise:Embrace the Forbidden
What if there were teens whose lives literally depended on being bad influences?
This is the reality for sons and daughters of fallen angels.
Tenderhearted Southern girl Anna Whitt was born with the sixth sense to see and feel emotions of other people. She's aware of a struggle within herself, an inexplicable pull toward danger, but it isn't until she turns sixteen and meets the alluring Kaidan Rowe that she discovers her terrifying heritage and her willpower is put to the test. He's the boy your daddy warned you about. If only someone had warned Anna.
Forced to face her destiny, will Anna embrace her halo or her horns?
Review
My thoughts:
At first I was really conflicted towards this book. I didn't even know how I was going to rate it, because it was good, really entertaining and a fresh concept, but the principles behind the whole story didn't agree with me.
I spent about half the book worrying about the fact that I shouldn't be able to care or relate to characters that were so "wrong". Why would I fall for the boy whose job is to make girls fall for him, just so he can get into their pants and then leave them brokenhearted? Why would I cheer for the girl that despite knowing all of this before hand, still falls for that boy despite her being supposedly a good girl with good, strong morals?
The thing is... I did. I cheered for Anna to come up on top even when she drove me crazy with her whining and erratic behavior at times. I fell for Kaidan even though he was a jack-ass most of the time. And after I got through my head that it was just the way things had to be in this twisted world, and stopped trying to apply my beliefs to characters that clearly were not like me at all, I started enjoying the book immensely.
Anna has been a good girl all her life, like she couldn't help it. But there's a darkness in her that's always pushing to get out. She's always known she's different, with her having extra senses and being able to see and feel the emotions of other people. But as soon as she meets Kaidan and discovers the truth about her heritage, her whole world starts spinning in a completely different direction. She's part of something so much bigger and she will have to fight to keep her soul pure while her life depends on flirting with the dark side.
The romance was intense. It all happened quite fast for my taste, like it took Anna four days to go from "you're really hot" to "I'm in love you", which was kind of disappointing. But even then, the whole thing was really sexy, there were plenty of heated scenes and sexual tension, but somehow it still had some sweet moments. I'm not really sure how I feel about the whole thing, my brain says no but heart screams yes... you know what I mean?
The world is the most interesting thing about this book. It's very dark and unusual and it reminded me a bit of Supernatural (the TV series). There's fallen angels/demons that work for Lucifer on Earth and are in charge of tainting the human souls. A few lucky ones have been granted the privilege of possessing a human body, and now roam the Earth as sin incarnate. These demons are called Dukes and each of them represents a different sin (wrath, lust, adultery, envy, murder, etc.) and they all have offspring called Nephilim. The Nephilim are trained from a very young age and forced to work for their parents and they all have especial talents for the specific sin they're born into.
Overall, Higgins' compelling writing makes it so there's no dull moment in the entire book. There's always something waiting just around the corner, which makes the whole story fast-paced and action-packed, full of mysteries, politics, and terrifyingly high stakes. The characters are unique and complex, overall filled with more darkness than light, which makes them a little hard to relate to, but really interesting nonetheless. I'll be picking up the next book on this series soon and I'm kind of scared about it. Maybe it'll make me switch completely to the dark side or maybe it will end with me putting down this series for good.
Rating:
Reaction:
Wendy Higgins is the USA Today and NYT bestselling author of the Sweet Evil series from HarperTeen and her independently published Irish fantasy, See Me. She is a former high school English teacher who now writes full time, and lives on the Eastern Shore of Virginia with her veterinarian husband, daughter, son, and doggie Rue.
Wendy earned a bachelor's in Creative Writing from George Mason University and a master's in Curriculum and Instruction from Radford. Writing Young Adult (YA) stories gives her the opportunity to delve into the ambiguities of those pivotal, daunting, and exciting years before adulthood.