Queen of Shadows by Sarah J. Maas
Throne of Glass #4
Published September 1st, 2015
Bloomsbury USA Childrens
Young Adult Fantasy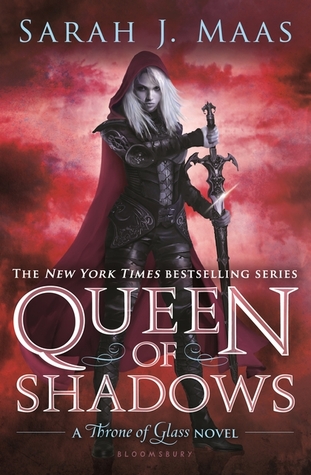 Premise:

Everyone Celaena Sardothien loves has been taken from her. But she's at last returned to the empire—for vengeance, to rescue her once-glorious kingdom, and to confront the shadows of her past . . .

She will fight for her cousin, a warrior prepared to die just to see her again. She will fight for her friend, a young man trapped in an unspeakable prison. And she will fight for her people, enslaved to a brutal king and awaiting their lost queen's triumphant return.

Celaena's epic journey has captured the hearts and imaginations of millions across the globe. This fourth volume will hold readers rapt as Celaena's story builds to a passionate, agonizing crescendo that might just shatter her world.
Review
My thoughts:
This review contains spoilers from the previous books in this series, so if you haven't read them yet and don't want to be spoiled, I strongly advice you to stop reading.
Also: This review is brought to you by Tumblr and its amazing New Girl's gifs.
OMG! I just absolutely loved this book. It was freaking glorious!
I've been counting the days for Queen of Shadows to come out since I finished Heir of Fire. I know I was really late to the party and I just caught up with the series last month, but I fell so deeply in love with this world and these characters that even those few days were agonizing. I don't know how have you managed to wait so long if you've been following the series since the first book came out. Seriously? What am I going to do now?! I need the next book like YESTERDAY!
I finished the book two days ago and I haven't been able to read anything since. I couldn't even get my thoughts in order to write a decent review right after I finished it, so I had to let it simmer a bit but I think now I'm ready. Here we go!
Queen of Shadows starts off with a heartbreaking scene of Dorian after being enslaved by the collar the King put on him at the end of Heir of Fire. And from this point on, every scene from Dorian's point of view had me tearing up at how awful things were for him. I had been questioning my love for him throughout the series, but it took picturing him like that, in all that darkness to make me realize just how much I love his character and how much I want him to be happy.
Then we jump straight to Aelin's point of view with her arriving at Rifthold and finding out what happened while she was in Wendlyn and surprise surprise! Everything went to hell while she was away as we all know, so she gets bad news after bad news and then terrible surprise after terrible surprise. We see her planning Arobynn's downfall while trying to get back the third Wyrdkey he took from her ten years ago, while trying to figure out a way to free Aedion and Dorian from the King of Adarlan and fighting with Chaol every step of the way. And she manages to keep on trucking like it's just another day in the life, and looks freaking bad-ass while at it. If she were anyone else, she would have let the pressure scare her into doing nothing, but good God, when she means business (and she most definitely does in this book), she will let no one bring her down. Breaking Aedion out of the castle? Sure, no problem. Slaying a few dozens Valg guards? Fine, she'll get her hands dirty if she has to. Facing the monster who turned her into an assassin and killed the boy she loved? Come at me, bitch!... I'm so unbelievably proud of her, like I've never been of any other character before. Seriously, Aelin might be my favorite female character of all time.
On the other hand, we have Chaol, who's at his very worst in this book. He drove me insane!! I stopped liking him in
Heir of Fire
, but in this book I just couldn't stand him, I hated him with all my heart and I truly admired Aelin for putting up with so much of his crap. He was so judgmental
of her when he had no right to be! He would go on and on about how bad a person she was and how untrustworthy and selfish she was, when all this time she's been fighting with all she has in her, risking her own life, to keep everyone she cares about safe, including him, for God's sake! He came across as a jealous child... It was completely okay that she was an assassin when she was sleeping with him, so much so that he was willing to run away with her, but now that she's not into him anymore, she's a terrible danger who never should've been let out of her cage, because she will kill them all... As if she wouldn't have been able to kill you before if she really wanted to... REALLY, CHAOL?! REALLY???
In this book I didn't actually struggle that much with Manon's POV as I did in Heir of Fire. Maybe because this time, it was intermingled with Elide's POV and the way their paths crossed made the witch much more relatable and easier to like. I think I just learned to appreciate that side of the story now that the stakes are higher than ever and that I actually understand why that side is so important. Now I'm actually pulling for her and as for the next book, I'm just hoping that she takes a stand and confronts her grandmother about the horrible things that are being inflicted upon some of the covens. Show them who's boss, Manon!
I really loved getting to know Aedion in this book. I admire his loyalty to Aelin and how he's willing to do anything for her. I really liked the fact that this relationship is not romantic, I know they're cousins, but somewhere in the series there was a line that said that they weren't that closely related so they could very well be a couple. I'm glad that is not the case, because I truly think Aelin needs someone like him, who loves her unconditionally and not because he's into her. I also think his character brought a lot of the much needed humor to the table, his lines of dialogue were incredibly funny even in the most dire situations and I loved him for that.
Now... let's talk Rowan for a second... In Heir of Fire, I did not appreciate the way he treated Aelin and I stand by that. I don't care if he lost the one person who meant everything to him, that does not give him the right to be an asshole. But I grew to really care about him in this book. He showed that he is truly committed to Aelin and that he will be there for her no matter what... But more than that, I just realized how much Aelin cares about him, and I've decided that I'm not in any of the boy's teams. I'm team Aelin all the way, and if I were the god in her universe, the only rule I'd make would be: "whatever she wants, she gets, it's fine by me, as long as she's happy".
There are a few new characters in this book too. And I loved every single one. Lissandra and Nesryn and Elide, bringing up the much needed female population in this book. I really liked them all and I'm hoping we get to see a lot more from them in the next book.
The thing with this series that just takes my breath away is the world. It just blows me away every time. It's like it keeps expanding and every new bit is as well thought out as the the one before it. Everything clicks right into place and everything has a purpose. It's just fantastic. I'm in awe of the amazing talent that is Sarah J. Maas.
Overall, this is my favorite book of the series so far. It gave me a lot of perspective and made me understand the characters a lot better. But even if it was the book that set everything into place, it was the most action-packed book, I think. It had a ridiculous amount of plot twists that made my mind explode, the stakes were so high and everything was always about to to spin out of control. This book was just glorious, it was the only thing I could think about, it had me at the edge of seat the whole time. I couldn't put it down... who needs sleep anyway?
I haven't been able to read anything since I finished this book because I just keep going back to this world and these characters. Honestly, I think I'm going to go insane waiting for the next one, but I'm happy to do that if I get rewarded with more of this awesomeness.
Rating:
Reaction:
Sarah J. Maas is the New York Times and USA Today bestselling author of the Throne of Glass series (Queen of Shadows, Book 4, will be out in September 2015), as well as the A Court of Thorns and Roses series (out 5/5/15).





Sarah lives in Bucks County, PA, and over the years, she has developed an unhealthy appreciation for Disney movies and bad pop music. She adores fairy tales and ballet, drinks too much tea, and watches an ungodly amount of TV. When she's not busy writing, she can be found exploring the historic and beautiful Pennsylvania countryside with her husband and canine companion.