The Assassin's Blade by Sarah J. Maas
Throne of Glass #0.1-0.5
Published March 4th, 2014
Bloomsbury Childrens
Young Adult Fantasy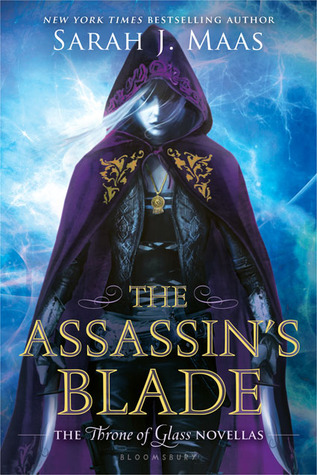 Premise:
Contains all five novellas.
Celaena Sardothien is Adarlan's most feared assassin. As part of the Assassin's Guild, her allegiance is to her master, Arobynn Hamel, yet Celaena listens to no one and trusts only her fellow killer-for-hire, Sam. In these action-packed novellas - together in one edition for the first time - Celaena embarks on five daring missions. They take her from remote islands to hostile deserts, where she fights to liberate slaves and seeks to avenge the tyrannous. But she is acting against Arobynn's orders and could suffer an unimaginable punishment for such treachery. Will Celaena ever be truly free? Explore the dark underworld of this kick-ass heroine to find out.
Review
My thoughts:
If you ever want to know more about Sam and the way his relationship with Celaena started, this is the book you'll want to pick up. There's five stories in chronological order, so it's seems like a whole prequel book and not just bits and pieces. In these stories we follow Celaena's adventures before she got captured and shipped to Endovier, we get to see her falling in love with Sam and making her first attempts at friendship while still being a bad-ass assassin.
If you are following the Throne of Glass series but haven't read this book, I strongly recommend for you to do so before getting into Queen of Shadows, because there are a lot of references and characters that pop-up in both books and it'll give you a better understanding of Celaena's feelings and action in the fourth book of this series.
Now, I'll be getting into a brief account of my feelings and impressions of each of the five stories:
The Assassin and the Pirate Lord
In this story we get to see the beginning of the relationship between Celaena and Sam. They had met long before this adventure took place, but they start to see each other in a different light during the events in this story. They are both sent by Arobynn to see the Pirate Lord, thinking they're trying to avenge a fellow assassin, but as always, Arobynn is playing games with them and turns out they're there for completely different reasons.
I loved the banter between Celaena and Sam. Celaena was pretty bratty at sixteen but still funny and sassy and snarky and Sam didn't know what to do with her. It reminded me a lot of the early days in Celaena's relationship with Chaol, with the whole "I'm going to kill you in your sleep, but not really" thing they got going on. I'll admit it wasn't what I was expecting between those two, because of the way Celaena always talked about Sam... I don't know it's hard to imagine them being even less than friends at some point, but I guess they had to start somewhere.
The Celaena we get in this stories, especially this one and the next is noticeably younger or at least more immature, but she still has that quality to her which won't let her turn a blind eye on the cruelty and awfulness of others. Still the same bad-ass with a heart of gold.
The Assassin and the Healer
Here's a bit of the aftermath of what happened in the previous story. Celaena is on her way to the Red Dessert and she's royally pissed off when she stumbles upon a tavern in the middle of nowhere, where she stays while waiting for the ship that will take her to her final destination. You could tell she was just looking for an excuse to cause trouble and she gets it.
In this story we get Celaena's POV and also Yrene's POV. Yrene is kind of a maid (?) I don't know how to describe her but she works at this tavern and her boss is an asshole. She was supposed to be a healer before the King of Adarlan banished magic from the continent and her mother got caught when they were looking for magic wielders, leaving her an orphan.
The brief relationship between Yrene and Celaena is unlike any other that I've seen in this whole series. The way Celaena tried to empower Yrene so she could finally do what she always wanted was pretty great to witness. It shows that even if she's cocky and bratty and an assassin she hasn't lost herself as much as she think she has.
I think maybe Yrene is the healer that was mentioned at the end of Queen of Shadows, it would make sense that her story is mentioned here if she was going to appear later on the series... But we'll see.
The Assassin and the Desert
This was me when finishing this story: "
Shut up, Sarah J. Maas. Just SHUT IT! Why do you have to break my heart in every one of your books, EVERY SINGLE ONE! You manage to toy with my emotions even in short stories. I should hate you... but you're so brilliant..."
In this story Celaena is finally arriving to the Red Desert to train with the Silent Assassins and it's all really intimidating at first, but after a while it seems like everything was really different than what Celaena was expecting. She even meets a girl, Ansel, who she tries to befriend and it's actually kind of funny seeing Celaena trying to get along for a change.
While being at the Red Desert, Celaena meets a couple of characters I would like to see again in the next books in this series. Like the master's son and the master himself, and maybe even that guy from the market with the spider silk.
But then came the heartbreak and the pain and with that I got the answers to many questions I had about Celaena's past. For example, I always wondered how Celaena managed to pay her debt to Arobynn. I guess now I know...
The Assassin and the Underworld
My first thought: That's where the strange deadly suit is from!
My second thought: If you thought your heart was broken in the previous story, you're in for a treat.
Celaena is back in Rifthold and Arobynn is showering her with presents trying to get her to forgive him for some really messed up stuff he did to her before. And those presents include a high profile contract to assassinate two men and get some really important documents. But you know Arobynn... he doesn't do anything if it's not completely calculated and everything is part of his sick twisted game of power. I despise that worthless bastard! If I didn't get it before, I mean how deeply the evilness went with Arobynn, now I have no doubt that he could be the most awful character ever. Because...
Holy shit! My heart broke in so many little pieces for Celaena. This story makes it unbelievably hard to understand some of the decisions Celaena made on Queen of Shadows, although not in a bad way. Let me try to explain it: Arobynn is much worse than I'd ever imagined, he deserved far worse than what he got. If I were Celaena I think I wouldn't have been able to help myself. I would have killed him, slowly and in the most painful way possible and then I would have danced over his grave with unfathomable joy until I couldn't move my legs anymore. I don't know how Celaena managed to be kind of the "better person" after everything this man did to her.
But... not everything was so terrible. Sam and Celaena are working together again and they're flirting and romance and it's really adorable and heartbreaking between those two, which only made me dread the last story more, because we all know what happens with Sam...
If you haven't read Throne of Glass, get out of here right this second because what's coming will spoil you.
The Assassin and the Empire
This is the story of how Celaena got thrown into Endovier. Knowing how it all ends doesn't help one bit. I could feel my heart shattering bit by bit through the horrors that Celaena and Sam had to endure. The dread at every step of the way was unreal... I was at odds with myself. Why in the hell am I dreading what I already know it's going to happen? But my heart kept beating harder and harder and I had to force myself to keep reading because clearly I was being irrational, but oh... the betrayal hurt as if I hadn't known about it beforehand and I was screaming: "No, Celaena, don't go! It's a fucking trap!" Even though it makes no sense, because if that hadn't happened there would be no Throne of Glass or any of the others books. But I just couldn't help it.
I just love this series, I don't know what am I going to do with myself until the next book is out. Specially since this one left me with so much sadness in my heart...
I think I'm going to re-read the whole series soon.
Rating:
Reaction:

About the author
Sarah J. Maas is the New York Times and USA Today bestselling author of the Throne of Glass series (Queen of Shadows, Book 4, will be out in September 2015), as well as the A Court of Thorns and Roses series (out 5/5/15).





Sarah lives in Bucks County, PA, and over the years, she has developed an unhealthy appreciation for Disney movies and bad pop music. She adores fairy tales and ballet, drinks too much tea, and watches an ungodly amount of TV. When she's not busy writing, she can be found exploring the historic and beautiful Pennsylvania countryside with her husband and canine companion.