Obsidian by Jennifer L. Armentrout
Lux #1
Published May 8th, 2012.
Entangled Teen.
Young Adult Sci-Fi / Paranormal Fantasy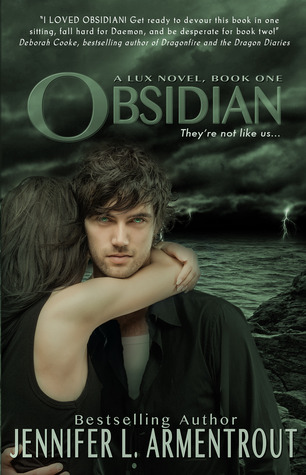 Premise:



Starting over sucks.





When we moved to West Virginia right before my senior year, I'd pretty much resigned myself to thick accents, dodgy internet

access, and a whole lot of boring… until I spotted my hot neighbor, with his looming height and eerie green eyes. Things were looking up.





And then he opened his mouth.





Daemon is infuriating. Arrogant. Stab-worthy. We do not get along. At all. But when a stranger attacks me and Daemon literally freezes time with a wave of his hand, well, something… unexpected happens.





The hot alien living next door marks me.





You heard me. Alien. Turns out Daemon and his sister have a galaxy of enemies wanting to steal their abilities, and Daemon's touch has me lit up like the Vegas Strip. The only way I'm getting out of this alive is by sticking close to Daemon until my alien mojo fades.





If I don't kill him first, that is.
Onyx by Jennifer L. Armentrout
Lux #2
Published August 14th, 2012.
Young Adult Sci-Fi / Paranormal Fantasy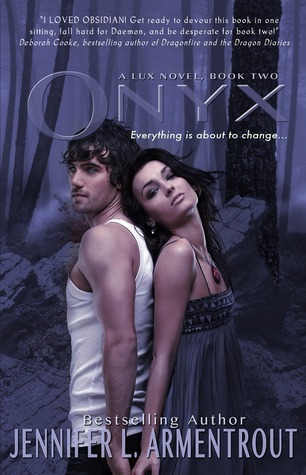 Premise:Being connected to Daemon Black sucks…


Thanks to his alien mojo, Daemon's determined to prove what he feels for me is more than a product of our bizarro connection. So I've sworn him off, even though he's running more hot than cold these days. But we've got bigger problems.


Something worse than the Arum has come to town…


The Department of Defense are here. If they ever find out what Daemon can do and that we're linked, I'm a goner. So is he. And there's this new boy in school who's got a secret of his own. He knows what's happened to me and he can help, but to do so, I have to lie to Daemon and stay away from him. Like that's possible. Against all common sense, I'm falling for Daemon. Hard.


But then everything changes…


I've seen someone who shouldn't be alive. And I have to tell Daemon, even though I know he's never going to stop searching until he gets the truth. What happened to his brother? Who betrayed him? And what does the DOD want from them—from me?


No one is who they seem. And not everyone will survive the lies…
Opal by Jennifer L. Armentrout
Lux #3
Published December 11th, 2012.
Young Adult Sci-Fi / Paranormal Fantasy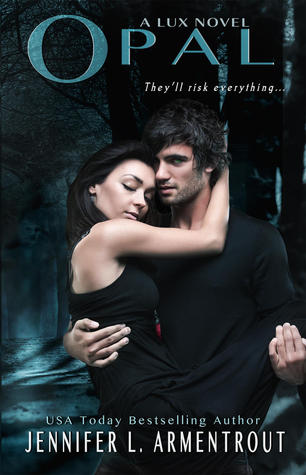 Premise:

After everything, I'm no longer the same Katy. I'm different... And I'm not sure what that will mean in the end. When each step we take in discovering the truth puts us in the path of the secret organization responsible for torturing and testing hybrids, the more I realize there is no end to what I'm capable of. The death of someone close still lingers, help comes from the most unlikely source, and friends will become the deadliest of enemies, but we won't turn back. Even if the outcome will shatter our worlds forever.


Together we're stronger... and they know it

.
Origin by Jennifer L. Armentrout
Lux #4
Published August 27th, 2013.
Young Adult Sci-Fi / Paranormal Fantasy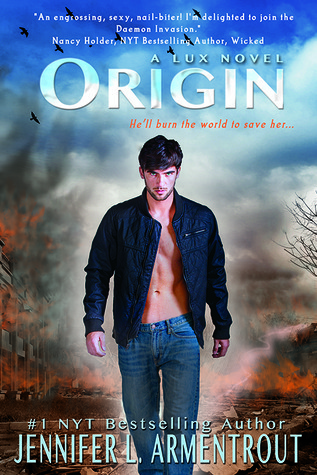 Premise:Daemon will do anything to get Katy back.


After the successful but disastrous raid on Mount Weather, he's facing the impossible. Katy is gone. Taken. Everything becomes about finding her. Taking out anyone who stands in his way? Done. Burning down the whole world to save her? Gladly. Exposing his alien race to the world? With pleasure.


All Katy can do is survive.


Surrounded by enemies, the only way she can come out of this is to adapt. After all, there are sides of Daedalus that don't seem entirely crazy, but the group's goals are frightening and the truths they speak even more disturbing. Who are the real bad guys? Daedalus? Mankind? Or the Luxen?


Together, they can face anything.




But the most dangerous foe has been there all along, and when the truths are exposed and the lies come crumbling down, which side will Daemon and Katy be standing on?


And will they even be together?
Opposition by Jennifer L. Armentrout
Lux #5
Published August 5th, 2014.
Young Adult Sci-Fi / Paranormal Fantasy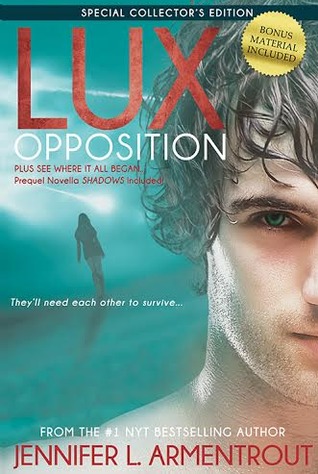 Premise:


Katy knows the world changed the night the Luxen came.




She can't believe Daemon welcomed his race or stood by as his kind threatened to obliterate every last human and hybrid on Earth. But the lines between good and bad have blurred, and love has become an emotion that could destroy her—could destroy them all.




Daemon will do anything to save those he loves, even if it means betrayal.




They must team with an unlikely enemy if there is any chance of surviving the invasion. But when it quickly becomes impossible to tell friend from foe, and the world is crumbling around them, they may lose everything— even what they cherish most—to ensure the survival of their friends…and mankind.




War has come to Earth. And no matter the outcome, the future will never be the same for those left standing

.
Review
I'm not much of an alien fan but this series was amazing! It was action-packed, sexy, funny, heart-warming and heart-breaking all at the same time.
I loved the first installment, Obsidian. I waited a long time to start this series because, like I said, I don't really like aliens… But a lot of people with similar taste for books had enjoyed it, so I decided to give it a chance. The books in this series are nothing flashy or wordy, they're light reads and simple.
The main character, Katy, was very relatable to me, especially since she's a book blogger. She goes through a lot of changes throughout the series and grows so much that it's like a whole other person comes out at the end.
Daemon is smoking hot and he knows it. He's very snarky and comes across as rude more often than not, so I didn't like him much at first. But along the way, we learn that he's also fiercely protective of the ones he loves and would do literally anything to keep them safe. Also, he's a freaking alien.
Deamon's sister Dee is an amazing character. She's funny, gorgeous, fashionable and really nice. She and Katy become fast friends despite her brother's worries.
Obsidian seems to be mainly focused in the relationship growing between Katy and Daemon rather than the fact that he's an alien. But even so, there's a lot going on because of what he is, which adds a considerable amount of action and excitement.
We don't get to know much about the whole alien race within this first installment. We learn that there are at least two different alien races, the Luxen -the light people, like Daemon and Dee- and the Arum -the shadow and dark people. And that they hate each other. We also learn about some of the abilities the Luxen have, like healing and traveling at the speed of light.
Onyx, the second book of the series, was my least favorite. At first, I grew so tired of Daemon and Katy being immature and not talking to each other. Also Daemon started showing a possessive side that I didn't like and I almost dropped the series. I didn't just because there still were those swoon-worthy moments and along the over-protective side of Daemon, came a sweetness to him I didn't think possible. I'm glad I didn't stop reading, because the books keep getting better and better.
In Onyx, a midst all the drama between Katy and Daemon we find out about mutated humans, which share some of the Luxen abilities and can be really powerful. We also get to know Blake, a new guy in school who seems to have a thing for Katy. By the end of this installment, things start to go south really fast. Katy makes a lot of mistakes placing her trust on the wrong people and it all comes to bite her in the butt, leaving her and Daemon in a world of trouble.
Opal is the book of unlikely alliances, where we see a darker side of characters we thought we knew and get to know new characters. It is also the book that made me hate Blake with a burning passion. A lot of things get resolved, but new issues pop in their place. The ending left me in tears and running to get the next book.
Origin was the book of jaw-dropping revelations and heartbreaks. A lot of deaths, mourning, true faces and action. If you think you got a big battle at the end of Opal, you're in for a freaking explosion -quite literally, in fact. This is like the battle of battles when all the proverbial shit hits the proverbial fan. And the ending was ridiculous. I was screaming at the book, cursing J.L.A. for doing this to me and running again to my shelf for the next book.
Opposition was the well-deserved closure our loved characters needed. The romance is really turned up a few notches and Daemon is more sexy than ever. The beginning of the book was really painful to read because of things that had happened to some of my favorite characters, but at the end it is all worth the struggle and the pain. I would've like that the final battle to be more epic, but it was over much too quickly and I thought the Origin's one was the best. Even then, this book was pretty awesome, the twists and turns of the plot were all over the place and you never knew what to expect, you didn't know who was going to make it and it was freaking terrifying to see all of you beloved character go and risk their lives one final time.
Overall, this series delivered. It was full of amazing characters, action, plot twists, romance, sexiness, friendship, and heartbreak. It wasn't perfect but it was amazing anyway. I'll be checking out other series by the same author, because: Holy crap! That woman can write! She has like a gazillion other books out and more coming out soon, so I'll see you there!
Rating:
Reaction:
# 1 New York Times and International Bestselling author Jennifer lives in Martinsburg, West Virginia. All the rumors you've heard about her state aren't true. When she's not hard at work writing. she spends her time reading, watching really bad zombie movies, pretending to write, and hanging out with her husband and her Jack Russell Loki.

Her dreams of becoming an author started in algebra class, where she spent most of her time writing short stories….which explains her dismal grades in math. Jennifer writes young adult paranormal, science fiction, fantasy, and contemporary romance. She is published with Spencer Hill Press, Entangled Teen and Brazen, Disney/Hyperion and Harlequin Teen. Her book Obsidian has been optioned for a major motion picture and her Covenant Series has been optioned for TV. Her young adult romantic suspense novel DON'T LOOK BACK was a 2014 nominated Best in Young Adult Fiction by YALSA.

She also writes Adult and New Adult contemporary and paranormal romance under the name J. Lynn. She is published by Entangled Brazen and HarperCollins.