This Lullaby by Sarah Dessen
Published March 8th, 2004.
Speak.
Young Adult Contemporary Romance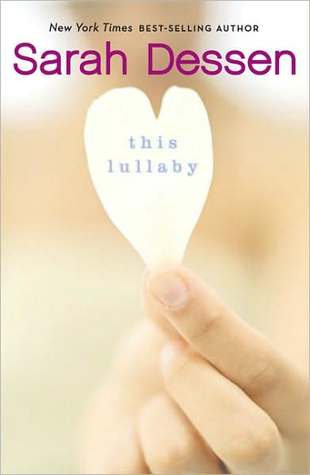 Premise:


When it comes to relationships, Remy doesn't mess around. After all, she's learned all there is to know from her mother, who's currently working on husband number five. But there's something about Dexter that seems to defy all of Remy's rules. He certainly doesn't seem like Mr. Right. For some reason, however, Remy just can't seem to shake him. Could it be that Remy's starting to understand what those love songs are all about?
I don't know what this book was. I'd read a couple of Sarah Dessen's books before and I really liked them, because the characters were so relatable and authentic, but in this one they were just awful.
I disliked every character in the story, except maybe for Monkey (Yes, the freaking dog!) and I don't even know if that counts.
Remy, our main character is a bitter bitch, so afraid of any real commitment that she goes sleeping around without a single care in the world about who she's hurting. She's a control-freak that flips out whenever something doesn't go her way and it was extremely hard for me to feel sympathy for her throughout the book.
Remy's friends weren't much better than her. I hated Chloe the most, because she was the kind of friend who's self-absorbed and superficial that she would rather mock her friend's feelings rather than try to comfort her in time of need, because the first option just seems like more fun. Lissa and Jess were kind of okay but felt really flat for me and completely forgettable (I had to look up their names because I'd already forgotten them).
The love interest, Dexter, the musician, was kind of a mess and not really appealing for me. I mean I like when a guy is confident and everything but when you tell him "Leave me alone" repeatedly and he just won't take the hint, it just becomes really annoying.
Remy's mother was the worst. I mean… that kind of people shouldn't even be allowed to have children. I get that she's a hopeless romantic and a writer, but after you've drag your children through your first four messed up marriages, you don't make your just-fresh-out-of-school child plan your fifth wedding while you sit and wait that everything turns out perfectly. You just don't! And the fifth husband was awful too and the way he treated Remy at one point… You would've expected this woman to say something to him, and defend her daughter… but she didn't even bother. Jesus!
I just wonder why I kept reading… It was a mess, I hated everyone and somehow I still found it entertaining, which is beyond me… Don't even ask me to explain this because I can't even understand it myself. I guess it was just so awful that it couldn't get any worse, so I just kept hoping for it to get better.
I hope the next Dessen's book I read won't be as bad as this one, because I really liked the author before this one and now I'm kind of in the fence about her. A shame!
Rating:
Reaction:
Sarah Dessen grew up in Chapel Hill, North Carolina and attended UNC-Chapel Hill, graduating with highest honors in Creative Writing. She is the author of several novels, including Someone Like You, Just Listen and Along for the Ride. A motion picture based on her first two books, entitled How to Deal, was released in 2003. Her eleventh novel,The Moon and More, will be published in June 2013. She lives in North Carolina.