Throne of Glass by Sarah J. Maas
Throne of Glass #1
Published August 7th, 2012.
Bloomsbury USA Children's.
Young Adult Fantasy.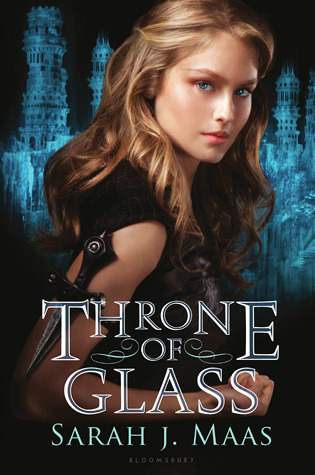 Premise:


After serving out a year of hard labor in the salt mines of Endovier for her crimes, 18-year-old assassin Celaena Sardothien is dragged before the Crown Prince. Prince Dorian offers her her freedom on one condition: she must act as his champion in a competition to find a new royal assassin.




Her opponents are men-thieves and assassins and warriors from across the empire, each sponsored by a member of the king's council. If she beats her opponents in a series of eliminations, she'll serve the kingdom for three years and then be granted her freedom. Celaena finds her training sessions with the captain of the guard, Westfall, challenging and exhilirating. But she's bored stiff by court life. Things get a little more interesting when the prince starts to show interest in her... but it's the gruff Captain Westfall who seems to understand her best.




Then one of the other contestants turns up dead... quickly followed by another. Can Celaena figure out who the killer is before she becomes a victim? As the young assassin investigates, her search leads her to discover a greater destiny than she could possibly have imagined.
My thoughts:
I've been shying away from this book for a while now. I just feel really intimidated by high-fantasy so I almost never read this kind of books. I think this genre is one of the few within YA that require you to invest a lot of energy and mental power to fully grasp and understand a story and its world, and that's the reason why –at least in my case- it's so disappointing and discouraging when the stories are poorly written. On the other hand, when a high-fantasy world is rich and well thought out, the characters are well developed and the plot is thick and full of interesting twist and turns, the whole story is much more satisfying to read and makes the investment worthwhile.
I'm very pleased to say that this book was definitely among the latter. I enjoyed it immensely since the very first chapter. The captivating writing style made it so easy for me to imagine and picture everything that was happening while I was reading it. The first scene, for example: I could clearly see Celaena in my mind, walking through corridors while being flanked by guards. I think this is one of the greatest accomplishments for a high-fantasy book, in which the reality of the story being told is so far removed from what the reality of the reader actually is that it should be really difficult to picture the events taking place.
The world in this book was fantastic! I loved the descriptions of how the world was before this powerful and cruel king who rules it all came into power. This king has obliterated most of the different cities in his conquests, has banned the use of magic and executed or imprisoned thousands of magic users, and through the characters we are able to see bits and pieces of the consequences that his actions have had for others.
I also loved how the concept of the assassins was developed. Normally I would find it very difficult to relate to a character that has killed many people just because someone paid her to do it. But Celaena was somehow special. She was really smart, funny and surprisingly girlish while dangerously deadly at the same time. She could be completely badass in a chapter and then allow herself to be vulnerable in the next.
The love interests were both amazing in their own way and even when the romance wasn't the main plot line of the story; it was sweet and significant all the same. I loved both Chaol and Dorian which made it completely impossible for me to decide whether I'd like for Celaena to end up with one or the other, because while there's no talking of actual "love" between them, it's possible to see that they all really care for each other even if they don't say it aloud.
Overall, I think this book is a phenomenal read: full of action, intrigue, magic, believable characters and one of the best fantasy worlds I've encountered in literature. I'll continue this series without a doubt and I would recommend it to anyone who likes fantasy.
Reaction:
About the author



Sarah J. Maas is the New York Times and USA Today bestselling author of the Throne of Glass series (Queen of Shadows, Book 4, will be out in September 2015), as well as the A Court of Thorns and Roses series (out 5/5/15).




Sarah lives in Bucks County, PA, and over the years, she has developed an unhealthy appreciation for Disney movies and bad pop music. She adores fairy tales and ballet, drinks too much tea, and watches an ungodly amount of TV. When she's not busy writing, she can be found exploring the historic and beautiful Pennsylvania countryside with her husband and canine companion.