Fangirl by Rainbow Rowell
Published September 10th, 2013.
St. Martin's Press.
Young Adult Contemporary Romance.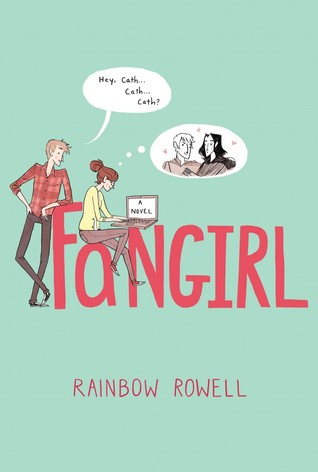 Premise:

From the author of the New York Times bestseller Eleanor & Park.

A coming-of-age tale of fan fiction, family and first love.



Cath is a Simon Snow fan.




Okay, the whole world is a Simon Snow fan...




But for Cath, being a fan is her life—and she's really good at it. She and her twin sister, Wren, ensconced themselves in the Simon Snow series when they were just kids; it's what got them through their mother leaving.




Reading. Rereading. Hanging out in Simon Snow forums, writing Simon Snow fan fiction, dressing up like the characters for every movie premiere.




Cath's sister has mostly grown away from fandom, but Cath can't let go. She doesn't want to.




Now that they're going to college, Wren has told Cath she doesn't want to be roommates. Cath is on her own, completely outside of her comfort zone. She's got a surly roommate with a charming, always-around boyfriend, a fiction-writing professor who thinks fan fiction is the end of the civilized world, a handsome classmate who only wants to talk about words... And she can't stop worrying about her dad, who's loving and fragile and has never really been alone.




For Cath, the question is: Can she do this?




Can she make it without Wren holding her hand? Is she ready to start living her own life? Writing her own stories?




And does she even want to move on if it means leaving Simon Snow behind?



"Touching and utterly real." — Publisher's Weekly
My thoughts:
This book was amazing and the funny thing is that I wasn't really expecting it to be. Even when everyone else had been saying it all along. I'd lowered my expectations regarding this book and went into it with a smile on my face and prepared for the worst.
I loved Cath... Cather is one of the most relatable characters (for me) that I've encountered in literature so far. The whole book was beautifully written, the pace was just right, the words just flew through my mind and everything made sense in my head without even having to really think about it. I've been where Cath was... I mean I've been a fangirl who only wanted to live inside someone else's universe, I've been there hiding from everyone in my room because I just didn't feel like being around other people. I've been there terrified of the prospect of walking down a hall full of strangers. She was such a real character, she could've been one of my friends, she could've been me.
I hated Wren most of the book. She was so selfish, such a bad sister, such a bad friend to Cath... She did everything so differently, dealt with her issues in such a strange manner for me. I think I found it to be strange because Cath found it strange and because Cath became like my spirit animal. By the end of the book I didn't like Wren much better, but I got it. I got that she was just trying to get her shit together, the same as Cath, but in a completely different way. And I understood that it was okay for her to do so. Not everyone deals with their problems the same way and that's what made this book so special. The characters were so real they could've been real people.
I loved the romance too. It was really sweet and it developed with time, perfectly, honestly, without being rushed and within the YA/NA genre, that it's always appreciated by me. Bonus points even.
I had a love-hate relationship with the ending. I loved that it give us some closure but it still left us hanging. I hated that I couldn't see what happened next.
Overall, I think this is one of the best books I've read in 2015 so far and I can't wait for Carry On to be out!
Reaction:
About the author
Rainbow Rowell writes books. Sometimes she writes about adults (ATTACHMENTS and LANDLINE). Sometimes she writes about teenagers (ELEANOR & PARK and FANGIRL). But she always writes about people who talk a lot. And people who feel like they're screwing up. And people who fall in love.





When she's not writing, Rainbow is reading comic books, planning Disney World trips and arguing about things that don't really matter in the big scheme of things.





She lives in Nebraska with her husband and two sons.





More at rainbowrowell.com.