I'll Give You The Sun by Jandy Nelson
Published September 16th, 2014.
Dial Books.
Young Adult Contemporary Romance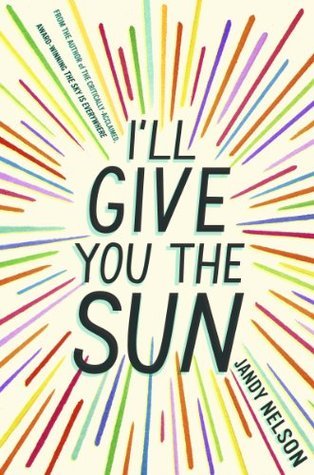 Premise:
A brilliant, luminous story of first love, family, loss, and betrayal for fans of John Green, David Levithan, and Rainbow Rowell



Jude and her twin brother, Noah, are incredibly close. At thirteen, isolated Noah draws constantly and is falling in love with the charismatic boy next door, while daredevil Jude cliff-dives and wears red-red lipstick and does the talking for both of them. But three years later, Jude and Noah are barely speaking. Something has happened to wreck the twins in different and dramatic ways . . . until Jude meets a cocky, broken, beautiful boy, as well as someone else—an even more unpredictable new force in her life. The early years are Noah's story to tell. The later years are Jude's. What the twins don't realize is that they each have only half the story, and if they could just find their way back to one another, they'd have a chance to remake their world.





This radiant novel from the acclaimed, award-winning author of

The Sky Is Everywhere

will leave you breathless and teary and laughing—often all at once.
This book was beautifully glorious. Full of metaphors. Full of color. Full of life. So real and heart-breaking. So full of mistakes like life itself. But also, so heart-warming, so rewarding... Like life itself can be.
We have a set of twins as main characters. We get both of their points of view, but at different points in time. We get Noah's when he is 13 and Jude when she is 16. The story is only made whole when you put the two pieces together.
Noah, at 13, is an awkward kid, in love with color, a prodigy at everything art related. He's been struggling with his sexuality for some time and he's getting bullied because of that. That is until he meets Brian, who seems to color all of Noah's grey patches and makes everything so much better for him. There's also this super cool art school Noah has been wanting to attend since he knew it existed and his mom is fascinated with him and his ability to capture all images and make them exquisite. Everything seems to be looking up for him.
Jude, at 13, through Noah's eyes, is a super popular girl who has it all, has all the attention, all the beauty and all the friends. So why does she has to be so jealous of him all the time?. Jude, at 16, is full of regret, living one superstition at a time while hiding under oversize clothes and a whole lot of weirdness. Everything in her life is a mess, she's in the school of Noah's dream and she didn't even wanted to get in. Her mother is dead and she's haunting her to make her pay for all the wrong she's done.
Noah, at 16, through Jude's eyes, has everything he didn't want before. Popular friends, a pretense-girlfriend, his father admiration and the right to be sad about their mother's death. But Jude knows that whoever that person is, is not her brother.
They used to be really close, they only felt whole when they were with one another. But now, there's a bridge separating them and it won't go away until they allow themselves to be honest with each other.
This book was truly a journey. I went from not giving a crap about the characters at page 50 or so, to not wanting to let go of them ever again at page 200. The characters are so authentically flawed. They made such horribly human mistakes.
The writing is so captivating... It's in this stream of consciousness style, where the characters can't hide anything from the reader, because you get every embarrassing thought that goes through their minds. You get to know them so well, that you get really attached to them. I didn't want the book to end and I was dreading the last few pages the whole time.
It was a mesmerizing experience. It was one of the best books I've ever read.
Rating:
Reaction:
Jandy Nelson, like her characters in I'll Give You the Sun and The Sky is Everywhere, comes from a superstitious lot. She was tutored from a young age in the art of the four-leaf clover hunt; she knocks wood, throws salt, and carries charms in her pockets. Her critically-acclaimed, New York Times bestselling second novel, I'll Give You the Sun, received the prestigious Printz Award, Bank Street's Josette Frank Award, and is a Stonewall Book Award honor. Both Sun and her debut, The Sky Is Everywhere, have been YALSA Best Fiction for Young Adults picks (Sun, a Top Ten on Both YALSA and Rainbow Lists) and on multiple best of the year lists including the New York Times, Time Magazine, NPR, have earned many starred reviews, and continue to enjoy great international success, collectively published in over 47 countries. I'll Give You the Sun has been sold to Warner Brothers and screenwriter Natalie Krinsky is currently writing the adaptation. Jandy, a literary agent for many years, received a BA from Cornell University and MFAs in Poetry and Children's Writing from Brown University and Vermont College of Fine Arts. Currently a full-time writer, she lives and writes in San Francisco, California—not far from the settings of her novels.