Panic by Lauren Oliver
Published March 4th, 2014.
HarperCollins.
Young Adult Contemporary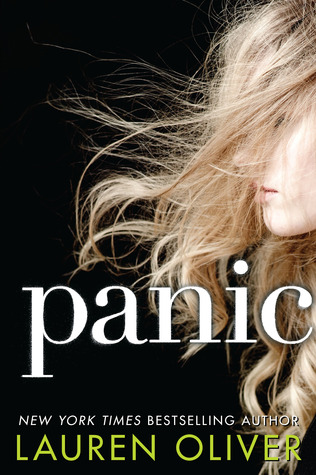 Premise:



Panic began as so many things do in Carp, a dead-end town of 12,000 people in the middle of nowhere: because it was summer, and there was nothing else to do.





Heather never thought she would compete in Panic, a legendary game played by graduating seniors, where the stakes are high and the payoff is even higher. She'd never thought of herself as fearless, the kind of person who would fight to stand out. But when she finds something, and someone, to fight for, she will discover that she is braver than she ever thought.





Dodge has never been afraid of Panic. His secret will fuel him, and get him all the way through the game, he's sure of it. But what he doesn't know is that he's not the only one with a secret. Everyone has something to play for.






For Heather and Dodge, the game will bring new alliances, unexpected revelations, and the possibility of first love for each of them—and the knowledge that sometimes the very things we fear are those we need the most.
My thoughts:
I was really on board with this book since I read the premise. It sounded so good, I expected it to be kind of like The Hunger Games or Divergent action-wise but set on a contemporary world. I mean it was really promising, but sadly it was really predictable and didn't feel completely authentic to me.
Panic is game played by the high school seniors of a small town in the summer after their graduation. There's a big prize in money and really crazy and scary challenges the competitors have to go through in order to win. Like every other game, Panic has its rules and although the author explained them throughout the book, there were a few holes that were never filled and some that were "conveniently" explained by the lack of good parenting in the families of all our protagonists.
I mean, I get that the contestant are supposed to keep it all a secret, because they do a lot of illegal things in order to win the game and if someone tells the police, that person is immediately disqualified. But come on! It's been years since the game started and people have died while playing and the police still haven't catch up on it? At least someone must have said something, but since in this book all the grown-ups are too busy being nasty parents, no one seems to know what's really going on. It seems more than a little far-fetched to me.
The story is told from two different perspectives. First, we have Heather whose mother is like the worst parent ever, she's is always drunk and doesn't seem to have a real job, so Heather has had to take care of her sister and herself as best as she was able to. So, you'll think that she would enter the game for the money, to help her family, but actually, she decides to participate because her boyfriend breaks up with her which made absolutely no sense for me.
The second point of view we get is Dodge's. He's a boy who's also had a rough time. Her sister was a former participant of Panic and was left paralyzed from the waist down after an "accident" in the last round of the game. The thing is, Dodge knows that one of the other contestants did something to her car so she would lose, so he enters the game seeking revenge.
There are other two mayor characters in this story: Bishop, Heather's best friend and with whom she's had sort of a more-than-friends relationship. And Natalie, Heather's other friend who's also the girl Dodge has been crushing on since forever.
The way everything happens in this book, the way the characters get together and interact with each other, the way some of the rounds in the game go down and even some of the mayor plot twists were really predictable. When I was under 100 pages in I already knew how everything was going to turn out and that took away a lot of the initial excitement.
Overall, Panic was a good idea, the premise was really eye-catching but I can't say that the author did an outstanding job to make it believable and relatable. It seems to me that aside from Delirium, Oliver's work is just not for me.
Rating:
Reaction:
About the author









Lauren Oliver comes from a family of writers and so has always (mistakenly) believed that spending hours in front of the computer every day, mulling over the difference between "chortling" and "chuckling," is normal. She has always been an avid reader.





She attended the University of Chicago, where she continued to be as impractical as possible by majoring in philosophy and literature. After college, she attended the MFA program at NYU and worked briefly as the world's worst editorial assistant, and only marginally better assistant editor, at a major publishing house in New York. Her major career contributions during this time were flouting the corporate dress code at every possible turn and repeatedly breaking the printer.

Before I Fall

is her first published novel.





She is deeply grateful for the chance to continue writing, as she has never been particularly good at anything else.