Hi, guys! The break is over and I'm back :)
I'm starting this post with an update on the changes of the blog so you can see what I've been doing so far.
I said in my Hiatus post that I wanted to work on the blog design and structure and guess what... The design is still in progress, because surprise! There's a lot more to do when redesigning a blog than just making graphics in Photoshop, although there's a crap-ton of that too as I've painfully discovered. I can handle Photoshop, but web design and coding are certainly not my forte, so I've been having a hard time making everything work.
So far, I've changed the color scheme and the banner and I've messed around with the template a bit, but the background is still fighting me and I'm still not sure if I should just let it be white as it is right now or keep trying to do something more. Let me know what you think about in the comments, I'd really appreciate some feedback on the design.
Structure-wise I've developed a schedule that works for me. I've added a couple of features and modified some of the old ones as you'll see through the week. Here are the basics:
I've kept the Top Ten Tuesday and Waiting on Wednesday weekly memes. I haven't been very regular at posting these the past few years, but I plan on working a bit ahead of time from now on so I don't miss post just because I don't have time on that specific date.
I've kept the Plans & TBR and the Wrap-up posts at the beginning and end of the month respectively. I think the Plans & TBR post is great because it lets you know what to expect from the blog in the coming weeks and it also serves me as a guide so I can stick to my resolutions. The Wrap-up posts, also serve a purpose since it's a dependable way for readers to see what went down during certain month here in Pause Time, it's an easy way to find a review or a post without having to go looking for entry by entry. And also, it's a great way for me to see how I'm doing monthly, if I'm posting everything I planned on posting, if the predefined TBR is working for me or if I end up reading whatever else that's not on the list. Overall, I'm really happy with this kind of posts because they make blogging much more simple for me.
I've kept my Rating System pretty much the same. I will still rate book from 1-5 clocks and add a reaction, which is a one-line impression of the book. I've only added a couple of standard reactions so I can have more variety, but overall it all stayed the same.
I've modified the New Releases monthly post. The first Thursday of each month I would list every single YA or NA release I could find that was coming out that particular month. But I found that I was always dreading that post... It took so long to be done! There were always more than 50 books to cover and each one with images and links and then I couldn't find the genres... It was just a nightmare and most of the books I listed I wasn't even interested in. So, I've moved it to the first Saturday of each month and I'm only featuring a few books coming out that month that I'm eagerly anticipating, but I'm linking you to a Goodreads list where you can find a long list of books that are being released that month. Works for everyone, I think...
I've eliminated my Review Policy page and I'm no longer accepting books for review by email request. Maybe I'll join some blog tours if I'm really interested in a certain book, but that's it. Now that I've had time to reflect I discovered that I don't enjoy reading just so I can write a review... The whole point of me having this blog is to share my thoughts on books that I read when I have something to say. But there were times when I would read a book that was okay for me but I didn't have much to say about it and it would cause me great anxiety the thought of having to write a review for that book because I've committed myself to do so and not because I have something I'm dying to share or an opinion worth reading, really. So from now on, I'm only reviewing books when it feels right for me because I think those reviews are the one that I'm most proud of and the ones that you guys will enjoy more than me just telling you about a book that I'm not even that excited about.
In line with the previous point, I'm adding a new type of review. Currently, I have two variations of reviews: the full-length, normal review and the series review. And now I'm introducing the "Mini-review", which is just a shorter review because sometimes I just don't have that much to say about a book. This kind of review is about 150 words long, just so I can add my two cents to the discussion. I'm hoping this will also encourage me to write at least a short opinion on the books I've been reading, so even if I'm not going into full depth, you can get a sense of what I thought of something I read.
And finally, the latest addition to Pause Time's features is a weekly meme of some sorts which will be starting next month. I'm calling it Thursday Topic which will be a section where I'll be writing about different bookish themes each Thursday. The topic will depend mostly on what I'm reading or what's in my mind any given week. It's not necessarily like a WOW or TTT type of weekly meme, because there's no linky and it's just for me to have a way of sharing my thoughts regarding reading and YA fiction for the most part. Of course, I don't mind if you wish to create your own post in response to the week's topic and I would love to read your thoughts so if you do, be sure to drop a link on the comments.
That's -for the most part- what's been going on with the redesigning and restructuring of the blog. Now, let's move on to my TBR for this month.
November is going to be a tough month to get much reading done, because I have two whole weeks packed with college exams, so I'm only planning on reading four books this month:
First, there's Velvet Undercover by Teri Brown which is kind of a Mystery Thriller set in World War I, Europe about a seventeen-year-old spy. The whole premise of the book is quite appealing to me and it's not like anything I've read before, so I'm picking it up to see if this is a genre that I should explore further.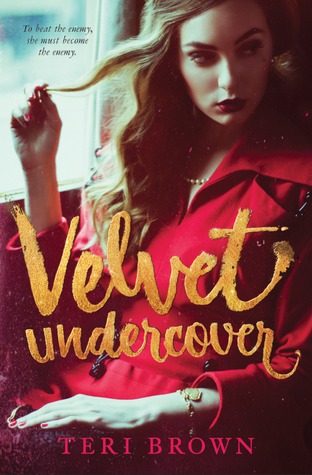 The second book I'm reading this month is The Wrath and the Dawn by Renee Ahdieh. I've read so many good things about it and I'm at a point where it's killing me not knowing what everyone is so excited about, so I'm done pushing it away. I'm reading it this month come hell or high water. It's supposed to be inspired by A Thousand and One Nights which for some reason seems to be kind of trending right now. There's a couple of "retellings" of that collection of stories that came out this year a few more coming out next year, and although I know a little about the original version, I've never actually read them before, so I'm testing the waters here.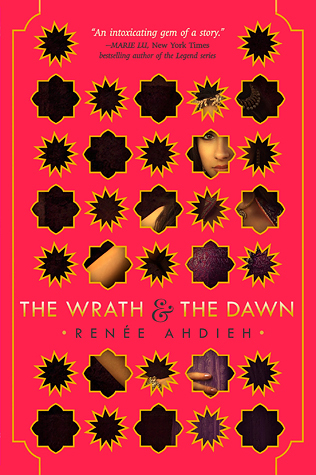 The third book I'll be reading is Scarlet by Marissa Meyer. I read Cinder, the first book in the Lunar Chronicles a few months ago and I really enjoyed it but I stopped with the series because I haven't felt in the mood for this kind of book yet. Now that Winter, the series' finale is coming out, I felt like it was a great time to pick it back up, so I'm doing it!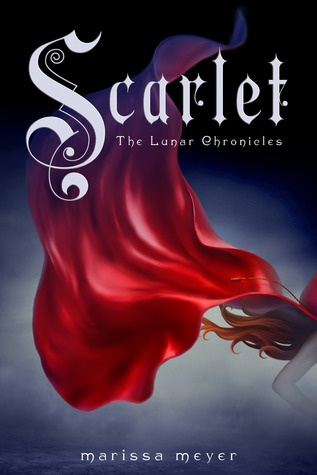 And the last book I plan on reading during November is actually a new release that's coming out on November 3rd, Ten Thousand Skies Above You by Claudia Gray. This is the second installment in the Firebird series. I read the first book in January and I really enjoyed it, so I've been waiting for this sequel for quite a while and I'm really happy it's finally here! I can't wait to get my hands on it.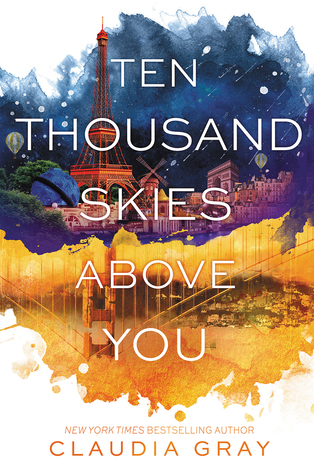 I will be reviewing these four titles alongside some of my previous reads during this month too, so stay tuned if you're interested in finding out what I thought of them.
What do you think of the blog changes?
What are you reading this month?