This is a monthly feature that showcases some of the book releases that I'm eagerly anticipating.
November is a pretty great month for books. There are a few really exciting titles being released this month and I'm going to feature my top 3 most anticipated releases. If you want to learn more about them, you can click the titles and it will take you to their respective Goodreads page.
I've been waiting for what seems like forever for this one. I read the first one in January of this year and it's definitely been a long wait. I'd read a few books by Claudia Gray before, but A Thousand Pieces of You, the first installment in the Firebird series was by far her best work in my opinion, so I'm really excited to get and read this sequel.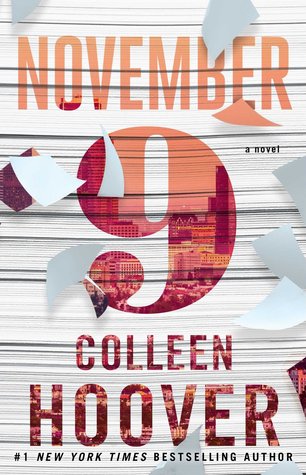 Release date: November 10th
Whenever there's a new Colleen Hoover book coming out, it goes straight to my TBR pile from the moment I learn about its "future" existence. I just absolutely love her writing style and she's the kind of author that keeps getting better and better with each new book. I can't recommend her books enough to you, if you haven't read anything by her yet, you are totally missing out. This particular book sounds mysterious and I love reading novels about writers, so this one should be an easy win for me.
Release date: November 10th
It's says something about an author or his/her series when you haven't even caught up with it, but you're still dying to get your hands on the finale. I read Cinder a few months ago and I plan on reading Scarlet this month and possible Cress and Winter in December. I've been waiting for the last book to be out to continue the series, because this universe is really captivating and I just want to immerse myself in it for a while, so I'll be sort of marathoning my way through this series. I can't wait!
There are a lot more titles being released this month and if you want to check some of those out, Goodreads has a great list where you can do just that. Click the link down below and it will take you there.